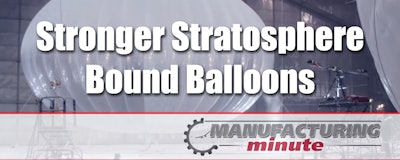 Google's parent company Alphabet is two years into Project Loon, which is aimed at providing Internet to remote areas via stratospheric balloon. The solar-powered balloons will each provide LTE service to a 50-mile radius. Creating a balloon able to withstand challenging stratospheric conditions, however, has proven to be more problematic than the team anticipated.
The balloons fly about 65,600 feet above Earth's surface but can ascend or descend to find a mass of air that will move the balloon in the direction it needs to go.
Way up there, the atmosphere is very thin, and the air pressure is about a one-thousandth of what it is at sea level and the temperatures can vary widely, as low as nearly -80 degrees Fahrenheit.
Although the goal lifespan of these balloons is 100 days, Project Loon's first batch lasted only a day or two. Researchers can test the materials and make extrapolations, but "the problem is you're taking a few square inches and trying to draw conclusions on a giant, big balloon," says Mahesh Krisnaswamy, the project's head of manufacturing.
So, rather than sending up balloon after balloon to see how it handles the difficult conditions, Project Loon is bringing the stratosphere down to Earth. More accurately, to a huge chamber of the McKinley Climatic Lab in Florida.
The lab allows Project Loon to simulate the balloons warming up and expanding in daylight and contracting with the freezing air of nightfall, while capturing data about which areas of the balloon are under the most stress.
The material needs to be tough as well as flexible, so the team chose a high-density polyethylene — much like a Cheerios bag. There isn't much elasticity to the balloon, meaning the design is incredibly important.
One test — purely for science — involved inflating a balloon to its bursting point. They used slow-motion cameras to see which areas of the balloon failed first.
Any areas prone to leaks, mostly seals, were reinforced.
Testing in real-world conditions helps the manufacturers of these balloons to save time and money in getting these products functional and long-lasting as soon as possible.
Here's a look at Google's stratospheric balloons:
WHAT DO YOU THINK?
What other applications could these balloons be used for? Could other manufacturers could benefit from a testing chamber that provides such realistic working conditions? 
Email me or leave your comments below.