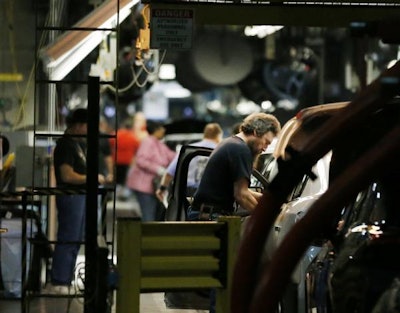 A lot has been written about this bitter winter's impact on the U.S. economy and job growth. Factory output dropped, ending five straight months of increased production. And many of the largest companies in America, including Ford, GM, and Walmart, saw large drops in sales.
The manufacturing sector fared particularly poorly on the jobs front, with just 6,000 jobs added in February. This, coupled with a substantial rise in America's trade deficit with China, has the Alliance for American Manufacturing (AAM) President Scott Paul blaming more than just weather.
"…there wasn't a lot of good news for the real economy in this morning's jobs report. Thanks to downward revisions in December and January, it's fair to say hiring in manufacturing has stalled. And it's not solely weather-related. Trade data released this morning tells part of the story: a large $39.1 billion trade deficit in January, including $27.8 billion with China alone."
Paul says President Obama's manufacturing hubs will likely give a boost to hiring in the manufacturing sector, but these benefits are still years down the road. He argues that Congress and the Administration should take concrete steps now because America can't afford to wait, and they should start with trade.
"Passing bipartisan legislation to deter currency manipulation would give an immediate boost to job creation. The Administration can designate China as a currency manipulator and insist that the Trans-Pacific Partnership agreement include enforceable currency disciplines. Taking those steps means we will export more and reduce our dependence on subsidized imports, and we'll expand payrolls here at home."
He argues that Congress must pass a comprehensive infrastructure bill that would enable modernization of transportation hubs and systems, thereby creating construction and manufacturing jobs. Increased investment in job training and community colleges, according to Paul, is also a key step in facilitating a manufacturing resurgence.
Do you agree with Paul and the AAM? Share your thoughts below to join the discussion.
---
For more news and opinions from Tia Nowack, subscribe here and follow her on Twitter at @TalesFromTia.