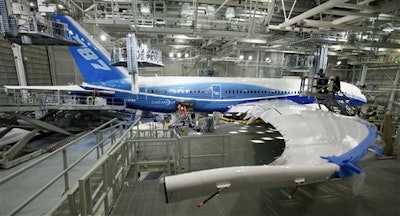 Boeing is no stranger to media coverage, but the past several days have seen this aerospace giant's name in the news under less-than-positive circumstances.
According to the AP, Boeing's Dreamliner production will again be delayed due to cracks in the wings.
"Hairline cracks have been discovered in the wings of some 787s that are being built," said this morning's AP post. "The Chicago-based manufacturer said none of the 122 jets already flown by airlines around the world are affected."
Boeing said that roughly 40 airplanes might be affected and that it will take one to two weeks to inspect each plane and fix any cracks found on shear ties on a wing rib. A shear tie is an attachment fitting. It is part of the rib — and connects the rib to the wing skin. The company would not give an overall timeframe to inspect all of the wings.
The wing cracks comes on the heels of Boeing's "incident" in January with batteries. A plane at Tokyo's Narita airport was down for scheduled maintenance when it was discovered that a single battery cell "vented," or released gas.
Boeing said changes to the 787's lithium ion battery after last year's problems appear to have worked as designed. The changes include a tougher box to hold the battery, and measures to contain any short-circuit or fire. 2013 saw so many issues with the planes that it resulted in an order by the Federal Aviation Administration to temporarily ground all domestic 787s, causing Forbes to call Boeing's 787 "a public relations nightmare."
These production setbacks have come at a time when airline safety is especially top-of-mind: Since Friday, the world has been watching for updates on the disappearance of a Malaysia Airlines jet — a Boeing 777. It's been suggested that it is unlikely this incident is a result of mechanical failure. According to this morning's report from Scott Mayerowitz, AP Airlines Writer, the most dangerous parts of a flight are takeoff and landing. Rarely do incidents happen when a plane is cruising seven miles above the earth. According to the article:
If there was a minor mechanical failure — or even something more serious like the shutdown of both of the plane's engines — the pilots likely would have had time to radio for help. The lack of a call "suggests something very sudden and very violent happened," said William Waldock, who teaches accident investigation at Embry-Riddle Aeronautical University in Prescott, Ariz.
Additionally, the Boeing 777 has one of the best safety records in aviation history, according to Mayerowitz. It first carried passengers in June 1995 and went 18 years without a fatal accident.
It appears in the case of Flight 370, the real PR nightmare is not on Boeing but, rather, Malaysian Airlines. According to Business Week, the lack of information up to this point has angered relatives of the missing passengers. With still much uncertainty over the plane's location, the search area was widened this morning in response to several dead-ends.
According to the AP, twenty employees of an Austin-based technology company on board the missing Malaysia Airlines flight were en route to a business meeting in China, a spokeswoman for the tech firm said Sunday.
The employees — 12 from Malaysia and eight from China — work at facilities in their respective countries that manufacture semiconductor chips, said Freescale Semiconductor spokeswoman Jacey Zuniga.
---
To read more by Anna Wells, sign up for our newsletter. You can also follow Anna on Twitter @IndustrialAnna or contact her by email at anna.wells@advantagemedia.com.