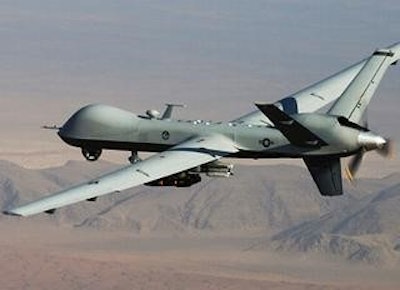 There's been lots of talk about drones lately in anticipation of the Federal Aviation Administration (FAA) releasing regulations on the use of the unmanned aircraft. Companies such as Amazon hope to use them to their advantage to step-up deliveries, while some worry about privacy and safety issues. Until the guidelines are mandated, everyone is hovering in a holding pattern.
To keep you up-to-date on where regulations currently stand, what it might mean for commercial drone companies and what to expect next, here are two Bloomberg Business videos that dive into the discussion.
Skycatch CEO Christian Sanz and Glu Mobile CEO Niccolo De Masi discuss the future for commercial drones.
The U.S. has approved its first policy for selling armed drones to allies, according to the State Department. Chairman on Patent Properties Jay Walker and Bloomberg's Peter Cook discuss the new policy and the proposed FAA commercial drone rules.
WHAT DO YOU THINK?
Do you think the FAA is moving in the right direction with guidelines? With regulations in place, do you think that drone manufacturing will increase? Tell us what you think by leaving your comments below.