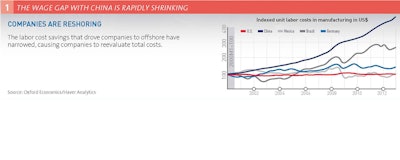 More than 260,000 jobs have been brought to the U.S. from offshore, according to Reshoring Initiative data.
Many U.S. manufacturers are starting to consider the benefits of reshoring — bringing manufacturing and services back to the U.S. from overseas —and are reevaluating their production and sourcing locations.
An infographic recently released by Reshoring Initiative, just in time for the Oct. 7 Manufacturing Day, states that now is a "new dawn for manufacturing careers in America."
Reshoring Initiative data shows labor cost savings that drove companies offshore have narrowed and companies are starting to use Total Cost of Ownership (TCO). Many are finding they can often manufacture more profitably here, in the United States, rather than overseas.
The infographic also highlights that the net annual job loss to offshoring went from around 200,000 in 2003 to zero in 2015.
"A strong skilled workforce is key to reshoring and manufacturing growth," Harry Moser, founder/president of the Reshoring Initiative said in a release. "Development of a skilled workforce begins with motivating a higher quantity and quality of recruits. By demonstrating that the trend is now away from offshoring and towards reshoring we make the case that manufacturing is once again a great choice for career stability and growth."