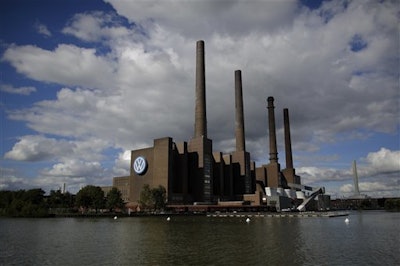 Included in IMPO's top five news stories: more than 1,100 counterfeit golf products are seized in a Chinese factory raid and OSHA cites a company after a worker is crushed by granite slabs in a Denver warehouse.
Take a look at last week's top stories:
WWII-Era Bomb Discovered At VW Headquarters: Volkswagen's headquarters in Wolfsburg, Germany, was evidently still hiding an unexploded bomb from World War II until last weekend. Business Review Europe reports that explosive device experts discovered the undetonated 400-pound American bomb on the factory grounds on July 8. The bomb was neutralized without impacting production, the automaker said. About 700 nearby residents were reportedly evacuated while experts defused the bomb.
NAFTA A Sore Spot For Some Democrats On Clinton In Michigan: Michigan is trickier than it may appear for Hillary Clinton, a Democrat whose party's presidential nominees have carried the struggling manufacturing hub for decades. Bernie Sanders beat her in the state's Democratic primary by railing against the North American Free Trade Agreement. Republican Donald Trump is more popular with Michigan's working-class white voters than past GOP candidates, and has pledged to back out of the treaty that some blame for the loss of countless Rust Belt jobs. While Clinton's history of supporting free trade may not cost her the state, it is costing campaign staff and money to defend its 16 electoral votes.
1,100+ Chinese Counterfeit Golf Products Seized In Factory Raid: The U.S. Golf Manufacturers Anti-Counterfeiting Working Group (The Golf Group) announced the completion of a successful raid of a counterfeiting factory in Tangxia, a major industrial center in Dongguan City, China. The raid, carried out by the Dongguan Municipal Chinese Administration for Industry and Commerce (AIC) took place in April. Authorities seized 1,169 counterfeit golf products, including clubs, club heads and golf bags.
OSHA Delays Anti-Retaliation Enforcement Date: The Occupational Safety and Health Administration is delaying enforcement of the anti-retaliation provisions in its new injury and illness tracking rule to conduct additional outreach and provide educational materials and guidance for employers. Originally scheduled to begin Aug. 10, 2016, enforcement will now begin Nov. 1, 2016.
Company Cited After Granite Slabs Crush Denver Warehouse Worker: OSHA announced July 11 that it has cited and proposed fines against Anaheim, CA-based Nidi Tec Inc. — a natural stone importer and distributor — after an investigation of a Jan. 29 incident in which 6,500 pounds of granite slabs fell and killed a worker at the company's Denver, CO warehouse. OSHA said the slabs fractured and fell on the worker after he set them on an "A" frame rack with a fork truck.