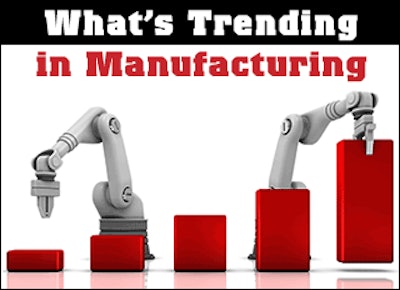 Here's a deeper look into the top trending stories in manufacturing today based on reader feedback. Fire inspections refused since West blast; NASA tests limits of 3D printing with rocket engine; and stats show Americans not that into driving anymore. Below these stories, check out links to other related news and features at Manufacturing Business Technology.
---
AUSTIN, Texas (AP) — Five facilities in Texas with large quantities of the same fertilizer chemical that fueled the deadly plant explosion in West have turned away state fire marshal inspectors since the blast, investigators said Monday.
A railway operator that hauls hazardous materials across Texas was also said to have rebuffed a state request to share data since the April explosion at West Fertilizer Co. that killed 15 people and injured 200 others.
Regulators and state lawmakers at a hearing about the still-unsolved explosion were intrigued by the lack of cooperation. State Fire Marshal Chris Connealy said "well, sure" when asked whether those facilities refusing to admit inspectors raised concern. Continue reading...
There were many comments about this story and readers question the legality of turning away the fire marshals. In your opinion, what does it serve a company to turn away safety inspections? Do you feel these companies are standing their ground on government regulation or do they have something to hide? Should the safety of the company assests and it's employees, or the potential of lawsuits from an accident, come second to doing business?
Leave your comments below.
---
The largest 3-D printed rocket engine component NASA ever has tested blazed to life Thursday, Aug. 22 during an engine firing that generated a record 20,000 pounds of thrust.
This test is a milestone for one of many important advances the agency is making to reduce the cost of space hardware. Innovations like additive manufacturing, or 3-D printing, foster new and more cost-effective capabilities in the U.S. space industry.
The component tested during the engine firing, an injector, delivers propellants to power an engine and provides the thrust necessary to send rockets to space. During the injector test, liquid oxygen and gaseous hydrogen passed through the component into a combustion chamber and produced 10 times more thrust than any injector previously fabricated using 3-D printing. Continue reading...
To learn more about NASA's testing and watch a video of the engine,
click here
.
---
WASHINGTON (AP) — Driving in America has stalled, leading researchers to ask: Is the national love affair with the automobile over?
After rising for decades, total vehicle use in the U.S. — the collective miles people drive — peaked in August 2007. It then dropped sharply during the Great Recession and has largely plateaued since, even though the economy is recovering and the population growing. Just this week the Federal Highway Administration reported vehicle miles traveled during the first half of 2013 were down slightly, continuing the trend.
Even more telling, the average miles drivers individually rack up peaked in July 2004 at just over 900 per month, said a study by Transportation Department economists Don Pickrell and David Pace. By July of last year, that had fallen to 820 miles per month, down about 9 percent. Per capita automobile use is now back at the same levels as in the late 1990s. Continue reading...
With teenagers and young adults waiting longer to get their driver's license, plus more people moving to urban areas with better availability to public transportation, what do you think will move America in the future?
Commenter donyates had this to say:
"Manufacturing practice changes that are seeing a move back to mainland USA, (like 3D printers, the internet commuter, transit oriented developments (TODs) and soon high speed rail intercity travel) can also take the car out of the equation.
"Internationally, the homegrown 'yank tank' couple of tons of chrome with an 18 wheeler tanker full of fuel to move one person was seen as a joke and just not practical. Like the switch to more valued cars like the Toyota Camry and Prius, maybe the collective USA has joined the real world and changed their ways. Less car use is just another positive sign."
What do you think? Leave your comments below.
---
If you'd like to weigh-in about What's Trending In Manufacturing, leave a comment below or Email me at Jon.Minnick@advantagemedia.com.