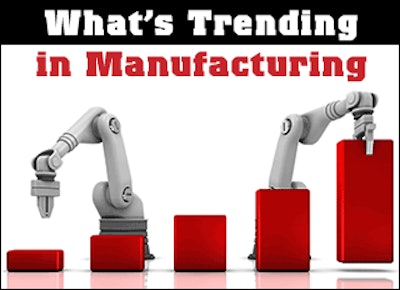 Here's a deeper look into the top trending stories in manufacturing today based on reader feedback: Ford's aluminum revolution; next-level 3D printing with metal; and the coolest concept cars in Detroit. Below these stories, check out links to other related news and features at Manufacturing Business Technology.
---
Aluminum Revolution: Ford Introduces New F-150
DEARBORN, Mich. (AP) -- Ford pickups have been doing the country's work for 66 years. They've hauled grain, towed logs and plowed snow. They've cleared debris after tornadoes and pulled floats in the Rose Bowl parade.
They've shouldered those loads with parts forged from steel. Until now.
On Monday, Ford unveils a new F-150 with a body built almost entirely out of aluminum. The lighter material shaves as much as 700 pounds off the 5,000-pound truck, a revolutionary change for a vehicle known for its heft and an industry still heavily reliant on steel. The change is Ford's response to small-business owners' desire for a more fuel-efficient and nimble truck — and stricter government requirements on fuel economy. And it sprang from a challenge by Ford's CEO to move beyond the traditional design for a full-size pickup. Continue reading...
You can also check out this video where Ford CEO, Alan Mulally, talks about why the new aluminum material is tronger, tougher and more fuel efficient than steel. 
---
Next-Level 3D Printing With Metal
by Danielle M., Blogger & Business Student
In the previous 3D printing article, we discussed how 3D printing technology could potentially lower costs and increase production in manufacturing businesses. So far, 3D printers have used primarily plastic to create images, because it's an easy material to work with. But last month, 3D printing took another leap forward when Michigan Technological University scientists invented a 3D metal printer available at a relatively affordable price — around $1,500. Oh, and they made the instructions for building the machine, as well as the operating software and firmware, available online for anyone to download.
While the machine is still a work in progress, it opens up the possibility of 3D metal printing for medium and small businesses, and even dedicated hobbyists. Here are some possible pros and cons that result from affordable, open-source 3D metal printers. Continue reading...
---
The Coolest Concept Cars In Detroit
The Kia GT4 Stinger, Toyota FT-1, Audi Allroad Shooting Brake and the VW Dune concept cars stirred up a lot of buzz at the Detroit Auto Show.
---
If you'd like to weigh-in about What's Trending In Manufacturing, leave a comment below or Email me at Jon.Minnick@advantagemedia.com.