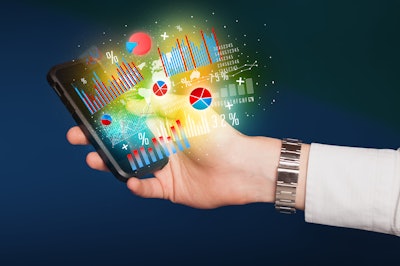 It wasn't so long ago that the concept of remote monitoring meant having the ability to see and, maybe if you were lucky, control systems that were physically based in a separate location from your own, even though your location was most likely another tethered spot in a different room or building within your corporate campus.
Recent improvements in mobile hardware and software, including data integration, visualization, historical data storage/retrieval, analysis and security capabilities, have made mobile remote monitoring of multi-site manufacturing processes faster and easier than ever before.
Here's a 'Top 10' of what you should expect from a top mobile remote monitoring software solution:
Integration with Industry Open Standards – Your selected mobile HMI software should be built on universal connectivity, allowing users to connect to anything, anytime, anywhere. Native implementations of connectivity protocols provide unparalleled views of a wide variety of data types and formats.
Instant KPIs and Alerts – Instantly receiving KPIs and alerts, day or night, on a mobile device, allows users to stay informed 24/7. Managers can monitor performance metrics in real time, while operators receive updates on issues while they're on the go.
Quick Deployment to Any Device – Deployment should be instant after downloading a mobile app, allowing for remote enterprise-wide monitoring immediately. Devices can range from Apple iPads/iPhones, Android phones and tablets, Microsoft Surface devices or Windows 8 phones and tablets.
Dazzling Graphics, Alarms, Trends and Charts – Mobile-optimized alarms and assets (categorized by importance) help to bubble the most important information to the top for faster and better decisions. Accessing high-powered .NET graphical controls from any device reduces the engineering time of mobile-ready displays and utilizes small screen sizes efficiently.
Overlay of Real-time Data on Detailed Maps – Mapping should be implemented, along with the collected real time data, to show KPIs for moving or geographically dispersed assets. Data can be contextualized into easy-to-comprehend information by positioning interactive assets virtually on a map.
Easily Designed HMI Displays for Multiple Devices – Using an intuitive graphical data visualization tool, users should be able to create single displays that scale dynamically for any device, form factor or resolution. This "responsive design", as it is called, allows vector graphics to scale and be rearranged seamlessly, enabling content that was created for one specific device to be resized for another without losing quality.
ISA-95 Navigation & Organization Standards Compliance – Following the ISA-95 standard makes creating and navigating easy. Users should be able to drill down into an asset hierarchy for more data. Such navigation should provide easy access to real world assets, as well as integration with commands to control applications.
Smart Tiles, Charms and More – Your selected software should enable recent natural user interface technology productivity features available in the latest smart devices. One example is the use of "smart tiles", similar to Microsoft's Live Tiles, that can be used within HMI displays on multiple devices.
Remote Monitoring of Critical Infrastructure – Remote monitoring via mobile control software is ideal for industries such as Water & Wastewater, Wind/Solar/Renewable Energy, Process Manufacturing, Pharmaceuticals, Biotech, Oil & Gas, Building Automation, and Electric Utilities.
Wide Organizational Use for Operators, Executives and Maintenance Staff – Your selected software should be role-based, allowing operators to stay informed, even while traveling, by viewing assets via intuitive navigation. Executives should be able to visualize business performance and improve enterprise-wide communications. Maintenance should be made easier to plan and schedule via real-time updates and information delivered through remote monitoring.
By adhering to these guidelines, you should be able to narrow your list down to a set of truly powerful mobile remote monitoring solutions.
Melissa Topp is Director of Global Marketing at ICONICS, Inc.
---
To read more manufacturing and technology news, sign up for our newsletter. You can also follow Manufacturing Business Technology on Twitter @MBTwebsite.