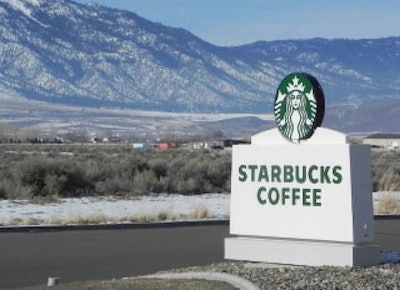 This article appeared in IMPO's March 2013 issue and Food Manufacturing's May 2013 issue.
After winding along hairpin curves up through the dense mountains of Northeastern California, Minden, NV is a welcome reprieve. You can see for, literally, miles — until the skyline is interrupted by snow-capped Sierras. You couldn't ask for a better view; it's the kind that makes you want to curl up with a cup of good coffee.
And if it's good coffee you're looking for, the Starbucks Carson Valley Roasting Plant & Distribution Center is going to be your favorite part of Minden. Even its lobby smells like a rich and flavorful cup of joe. If you get them talking, the crew here will tell you everything you need to know about how roasting and brewing methods affect the flavor of coffee in so many ways. And just as the smallest of modifications can dramatically affect the flavor of the cup, Starbucks Carson Valley has learned that – likewise – small steps towards continuous improvement can yield returns in big, bold bursts, or in subtle, mellower notes. It all starts with the effort.