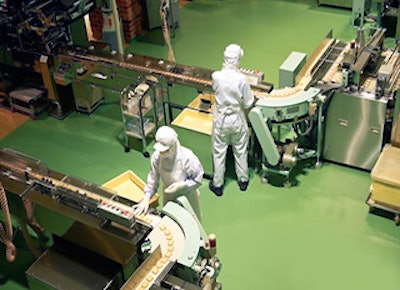 Whether its specialty is baked goods, meats or sodas, your facility deserves to be showcased. A viewing gallery helps shine that spotlight, serving as an isolated structure that gives guests a glimpse into your plant's processes. It's a moderate added cost for your facility, outweighed by a great deal of benefits.
A viewing gallery can be ground level or elevated, offering a behind-the-scenes look at your plant's critical processes or packaging of your products. It can serve as an asset to any plant—existing and new. Let's review some of the best qualities a viewing gallery has to offer.
A Flexible Addition
Viewing galleries can be constructed many different ways, depending on the available building area, clear height and if it's built onto an existing facility or into a new plant's design.
A viewing gallery can be elaborate, created as series of tunnels or hallways through the plant where guests look at the processes through viewing ports or windows.
A simple form of a viewing gallery is a catwalk, suspended from the ceiling to allow for floor observations from above. This is a relatively low-cost solution that still achieves the same benefits of more elaborate viewing galleries.
Better Facility Tours
When guests come to visit your food processing facility, the risk for contamination enters with them. However with a viewing gallery, pedestrians and the tour members are isolated, eliminating the risk for contamination. Guests don't have to suit up and the risk of germ exposure to the facility is limited.
Another benefit includes the quiet environment of a viewing gallery. Often, large group tours are muffled by loud machines on the floor, but again, because the viewing gallery is isolated, you're now within an area better suited for conversation.
Control Over the View
A viewing gallery gives you control over what your guests see (and don't see) during their visit to your plant. Each and every part of a facility is not best suited for the public eye. So, what is it you want to showcase? That should be the focus of your viewing gallery. For example:
     Say your plant produces lunch meats. Perhaps you show off your slice area.
     If your plant produces soda and most of the work is hidden within pipes, perhaps you show off the bottling sector.
     If your facility specializes in cookies, you may opt for a longer viewing gallery stretching from the front end to the back end of the plant. This way, you can show guests everything from the batter mixing to the packaging of the baked cookie.
     Viewing galleries can even be located off your test kitchen. Because viewing galleries are conducive to high quality tours and thus provide a better overall experience for guests, they're a fantastic sales tool, attracting new customers and potential buyers.
Convenient and Easy Oversight for Plant Management
A viewing gallery's greatest strength is that it gives you the benefit of having contact with the plant floor operations without actually being on the floor. Plant managers can use the structure to more easily (and perhaps, more discreetly) observe workers, food safety and plant processes.
For the facility staff, it can serve as motivator. Guests may pop in for visit at any given time, and having a viewing gallery can help encourage your plant to remain in ship-shape at all times.
Stellar is a fully integrated firm focused on planning, design, pre-construction, construction, refrigeration, mechanical & utility, building envelope, and total operations & maintenance services worldwide. Visit the company's blog at www.stellarfoodforthought.net