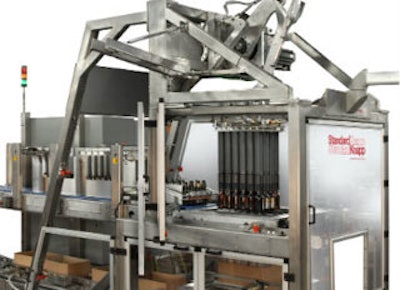 After experiencing a higher than desirable level of bottle breakage with repurposed packaging equipment, Midwestern stalwart Boulevard Brewing Company approached Standard-Knapp to create a solution to meet its non-traditional packaging demands, which include four different bottle types, multiple packaging sizes, and no carton dividers.
The packaging company responded with an innovative solution that picks the product from the infeed conveyor and gently places it into the bottom of the empty case. The company now reports virtually zero packaging breakage and has increased throughput by about 10 percent because of increased efficiency and less down time.
Boulevard Brewery's growth fuels facility expansion
Kansas City, MO-based Boulevard Brewing Company is the 10th largest craft and 17th largest overall brewery in the U.S. Boulevard. It currently offers seven year-round and five seasonal brews, as well as a rotating line of artisanal beers named for its iconic brick smokestack, packaged in 750ml bottles, 12-ounce four-packs, and kegs.
[Continue Reading...]