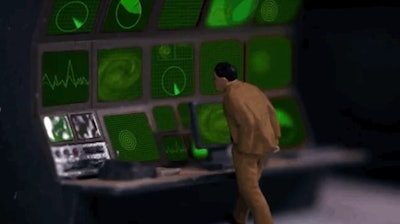 The big unifying theme of this year's International Consumer Electronics Show (CES) in Las Vegas has been the Internet of Things (IoT). From BMW's self-driving car to Quirky's and GE's connected light bulbs, smart door locks and bells, and Wi-Fi tea pots, there were hundreds of exhibitors who presented their IoT-ready technology.
The IoT is ultimately about connecting devices to people, and allowing them to remotely control and monitor their thermostats, lighting, air conditioners and other appliances. 
But there's another, arguably deeper change taking place: the Industrial Internet. It's less about remote control and more about machine intelligence and allowing things like wind turbines, locomotives and jet engines to talk and understand each other. This dialogue will allow these "brilliant machines" to work better together, optimize production and reduce unplanned downtime.
GE has been developing Industrial Internet software and applications for several years, and spent more that $1 billion to launch its global software center in San Ramon, Calif.
Last fall, GE opened Predix, its software platform for the Industrial Internet, to outside developers like Japan's SoftBank Telecom, which took the first license in December.
GE believes the Industrial Internet could add $10 to $15 trillion to global GDP in efficiency gains over the next two decades. The company also estimates that convergence of machines, data and analytics will become a $200 billion global industry over the next three years.
The Industrial Internet is already powering an American railroad as well as a South African platinum smelter. Take a look at a handful of examples.
American pipeline operators are investing up to $40 billion every year to maintain, modernize and expand their networks. Intelligent Pipeline Solution combines GE software and hardware with Accenture's data integration expertise to allow customers to monitor their networks in almost real time and streamline their operations.
GE engineers and scientists are working with the Pacific Northwest National Laboratory and Southern California Edison on a software system that could simulate and control the grid in real time, and predict and reduce outages.
GE's Mine Performance system is helping the South African platinum smelter Lomnin to monitor and evaluate production. The gathered data allowed Lonmin to increase throughput in the section that feeds the furnaces with raw material by 10 percent.
GE's SeaLytics BOP Advisor allows drilling crews to monitor the health of the components of blowout preventers siting atop new subsea wells and determine how many cycles they have gone through, what needs to be fixed and when. "When there is a problem, the drilling contractor will know within seconds," Judge says.
For more articles like this, visit GE Reports.