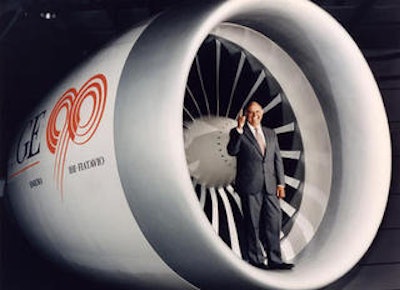 The oil embargo of 1973 was a dark and miserable period when American towns banned Christmas lights to save electricity, billboards urged citizens to "turn off the damn lights," and filling stations dispensed gasoline "by appointment only" to "regular customers." But like the Sputnik launch 15 years before, the crisis forced the government and many businesses to innovate their way out of the crisis.
GE, for example, focused on a class of multi-layered high-tech materials called composites. These materials are made from alternating layers of fiber and sheets of carbon, plastic, or ceramics, kind of like industrial-grade baklava. When joined together, composites can be tougher and lighter than steel or titanium. "This was a huge, expensive, and risky project," says Shridhar Nath, who leads the composites lab at GE Global Research. "We planned to replace titanium with what is essentially plastic. We were starting from scratch and we did not know how carbon fiber blades would respond to rain, hail, snow, and sand, and the large forces inside the engine."
The bet paid off and GE has, over time, invested billions more in materials science. The composites research delivered a new line of large, fuel efficient jet engines like the GE90 and GEnx, that changed the economics of aviation forever. "The engines essentially opened the globe up to incredibly efficient, twin-powered, wide-body planes," says David Joyce, president and CEO of GE Aviation.
The latest engine in that family, the GE9X, will power Boeing's next-generation 777X long-haul jets. Light-weight carbon composites allowed engineers to design an 11-foot fan that can suck a maelstrom of 8,000 pounds of air per second inside the engine. The air will flows into the combustor, where it meets parts made from ceramic matrix composites (CMCs), another breakthrough material developed by GE scientists.
Carbon fiber composites work with cold air at the front of the engine. But CMCs operate in the engine's hot section, at temperatures where even metals grow soft. The extra heat gained by the ceramics gives the engine more energy to work with and makes it more efficient.
But that's not all. CMCs also have twice the strength and just a third of the weight of their metal counterparts. This allows designers to make parts from them thinner and much lighter, further reducing the weight of the engine.
While the GE9X is still in development, the new LEAP jet engine is the first passenger jet engine with CMC parts that's already going through testing. Although the first LEAP won't enter service until next year, it is already the bestselling engine in GE history, with more than $100 billion (U.S. list price) in orders.
The demand is so big that GE just decided to build a second plant for making ceramic jet engine parts, even though the first one is still under construction. Says GE researcher Krishnan Luthra, who spent two decades developing the material: "I thought it would be the Holy Grail if we could make it work."