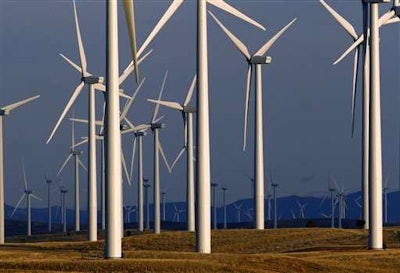 The Obama administration this week took an initial step toward developing offshore wind farms near the coast of South Carolina.

The U.S. Interior Department's Bureau of Ocean Energy Management issued a request for comments from the wind energy industry about developing four offshore areas totaling more than 1,100 square miles on the Outer Continental Shelf.

The call seeks to gauge the interest in acquiring commercial wind leases at the sites — which were selected in consultation with a state task force — as well as information about site conditions, nearby resources and potential conflicts or alternative uses.

"We know South Carolina has important wind energy potential, and we will work with stakeholders through a collaborative effort to identify high-potential, low-conflict areas for development, supporting investment and jobs in South Carolina," said Interior Secretary Sally Jewell.

To date, BOEM has awarded nine wind energy leases for federal waters off the Atlantic coast, including four in Massachusetts or Rhode Island, two in Maryland and one in Virginia. Construction began on the nation's first offshore wind farm near Rhode Island in April.

Seven of those leases resulted from competitive bidding processes; a pending proposal in New Jersey is expected to bring the total revenue from all bids to $15.7 million for more than 1 million acres.

The proposal announced this week could lead to the first wind development in South Carolina, where local officials spent years in preparation for potential renewable energy projects.

"If it comes to fruition, we've often thought we could power our entire city with wind," Marc Jordan, president of the North Myrtle Beach Chamber of Commerce, told The State.