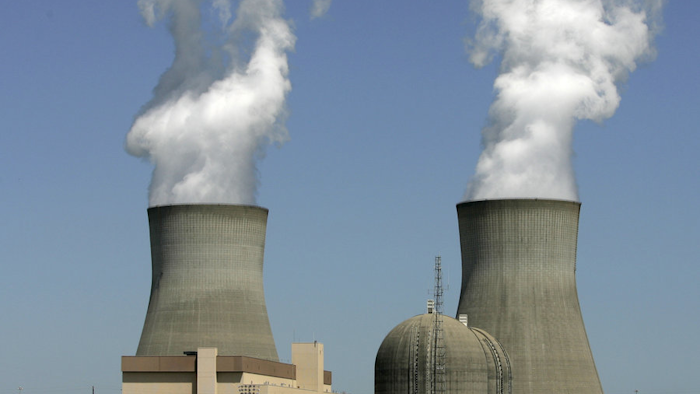 MADISON, Wis. (AP) — A Republican legislator is renewing a push to lift Wisconsin's moratorium on new nuclear power plants, saying the state's manufacturers must have a reliable source of energy as burning fossil fuels grows more expensive.
Under current Wisconsin law, state regulators can't grant permission for a new nuclear power plant unless a federal storage facility for the waste from nuclear plants across the country exists and the plant wouldn't burden state ratepayers. No such centralized storage facility exists, however. President Barack Obama's administration pulled funding for creating one at Nevada's Yucca Mountain, leaving nuclear plants to continue storing waste on-site in pools and casks.
Rep. Kevin Petersen, of Waupaca, has introduced a bill that would erase both the storage and ratepayer language from the law, which would effectively end the moratorium. The measure also would require the state to consider nuclear power when designing energy programs and handing out energy grants and loans.
Petersen argued in a memo seeking co-sponsors that nuclear power is a clean, affordable option for manufacturers as utilities work to meet the Obama administration's new greenhouse gas emissions rules. The rules require Wisconsin to reduce carbon emissions by 41 percent over the next 15 years.
The mandate has stoked fears that utilities will raise rates to cover upgrades, hurting large commercial energy customers such as manufacturers. Republican Attorney General Brad Schimel has joined nearly two dozen other states in a lawsuit challenging the rules.
"In order to compete globally as well as domestically, Wisconsin businesses must have access to energy that is both affordable and reliable," Petersen wrote. "It is time to lift the moratorium; advanced nuclear energy is a clean, safe, and affordable way to meet future energy demands in Wisconsin, the United States, and around the world."
Petersen is far from the first lawmaker to propose lifting the moratorium. Former Republican Rep. Mike Huebsch introduced an almost identical bill in 2003. The GOP also proposed language in the state budget in 2007 that would have lifted the ban and Democrats included lifting the prohibition in a sweeping renewable energy bill in 2010. All those attempts eventually failed.
The fate of Petersen's bill looks unclear.
Thirty Assembly Republicans and two Senate Republicans have signed onto the bill as co-sponsors and the Assembly's energy committee has scheduled a public hearing on the measure for Wednesday. Union chapters covering engineers, pipefitters and construction workers have registered in support. So has Madison-based Alliant Energy, which supplies electricity to customers across southern Wisconsin and most of Iowa. The Sierra Club's Wisconsin chapter is the only organization to register against the proposal; a message left at the chapter's offices Monday wasn't immediately returned.
Spokeswomen for Assembly Speaker Robin Vos and Senate Majority Leader Scott Fitzgerald didn't immediately respond to emails inquiring about the bill's chances. Floor votes in either the Assembly or Senate can't happen until next year at the earliest. The Senate finished its fall floor session last week and the Assembly was expected to wrap up its 2015 floor sessions on Monday. Neither chamber is expected to reconvene until January.
Wisconsin is currently home to only one operational nuclear power plant. It's located near Two Rivers on the Lake Michigan shoreline.