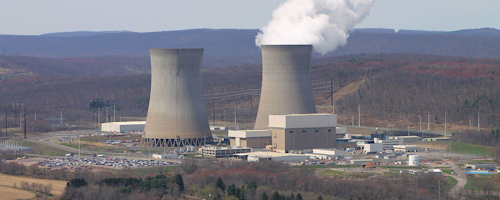 BERWICK, PA — Operators began the process to safely shut down the Unit 2 reactor at Talen Energy's Susquehanna nuclear plant in Luzerne County, PA late Friday, Sept. 30 and disconnected from the regional transmission grid early Saturday, Oct. 1. As previously announced, the outage plan was developed to address indications of small cracks developing on a metal blade on the unit's low pressure turbine.
The plant is continuing a multi-year, systematic turbine blade modification and replacement project. Susquehanna has determined root cause of the issue and is expected to complete the final, permanent modifications on the Unit 2 turbine during the 2017 refueling outage and on the Unit 1 turbine during the 2018 refueling outage.
"Since we are addressing a single blade, we expect this to be a brief outage and the plant will inform its neighbors when we return to service," said Tim Rausch, Senior Vice President and Chief Nuclear Officer. "As is always the case, Susquehanna's primary focus is safety, which then enables us to deliver reliable, zero-carbon energy to our customers."
Susquehanna Unit 1 continues to operate safely at full rated power and there are no indications of issues with Unit 1 turbine blades that have yet to be modified.
The Susquehanna plant, located about seven miles north of Berwick, is jointly owned by Susquehanna Nuclear, LLC, and Allegheny Electric Cooperative Inc., and is operated by Susquehanna Nuclear.