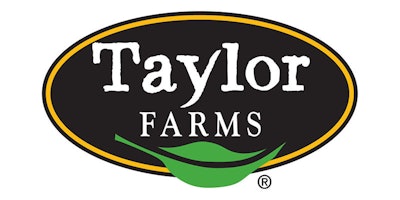 ALINAS, Calif. and DALLAS, Dec. 6, 2016 (PRNewswire) — Taylor Farms, the leading producer of value-added produce and healthy fresh foods in North America, announced Tuesday the company's latest solar installation at their new prepared fresh foods facility in Dallas, TX. The 1 MW roof mount array, spans nearly four acres, with 3,520 panels installed, making this one of the largest commercial solar installations in the state of Texas.
"We are excited to unveil our first, large scale, energy project outside of California. This is an important step for Taylor Farms in taking our sustainability initiatives nationwide," said Nicole Flewell, Director of Sustainability, Taylor Farms. "We are very pleased by the success we've had working alongside our Texas partners in making this project possible."
In partnership with ONCOR's Solar Program, a Dallas-based energy distributor, and support from energy provider MP2; Taylor Farms began construction on the roof mid-September and completed the project in December. The system will produce 1.1 megawatt (MW) of direct current (DC) power for the facility daily – an approximate 17 percent energy offset for the plant.
"ONCOR is pleased to partner with Taylor Farms, and all of our participants, to successfully install and implement solar systems," said Jeff Reed, Senior Program Manager at ONCOR Energy Efficiency. "Energy efficiency is important to our business customers and to make sure we can help meet their needs, we offer several energy efficiency programs. These programs provide incentives that assist them in installing a solar system to reduce their energy consumption and contribute to positively impact the environment."
The Dallas facility, which employs 1,100 people, will be one of Taylor Farms' largest solar arrays. This solar installation in Dallas is the latest example of Taylor Farms' commitment to renewable energy. This project is the eighth major Taylor Farms project in the U.S. including solar, wind, cogeneration and water recycling.
Taylor Farms broke ground on the new state of the art Dallas deli facility in February 2015. With 220,000 square feet of production space and an additional 500 new jobs, the new facility allows Taylor Farms to add both capacity and capabilities to the growing customer base. The facility is now producing items that had not been possible before, including sandwiches, wraps, meat and cheese trays, fruit cups, and snack options.
Taylor Farms' investments in sustainability projects have been widely embraced by customers and partners nationwide. Taylor Farms plans to continue pursuing opportunities to lead renewables projects across North America, with each project taking the company one-step further in its dedication to minimizing our environmental footprint, while delivering healthy fresh foods to our consumers.
About Taylor Farms
Taylor Farms is North America's favorite maker of salads and healthy fresh foods. Taylor Farms focuses on innovation by consistently developing new products and improving production methods. Taylor Farms is grounded in a commitment to quality with products harvested, packaged and shipped at the peak of freshness. Taylor Farms is family owned and based in Salinas, California with twelve operating companies and distribution facilities throughout North America. www.taylorfarms.com