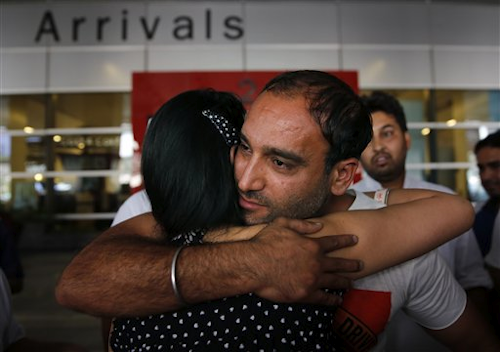 NEW DELHI (AP) — Nine Indian sailors held in Iran for two years on charges of smuggling oil returned home Wednesday after being freed by the Iranian government.
The sailors were greeted by family members and friends who hugged them at New Delhi's airport. Some beat drums to express their joy.
Indian External Affairs Minister Sushma Swaraj wrote a message on Twitter thanking Iranian Foreign Minister Mohammad Javad Zarif for "prompt action on our request."
The Indians were freed on Tuesday and flew home on Wednesday.
The Press Trust of India news agency reported that the men were held over a $2.9 million fine imposed on them over the oil-smuggling charges.
"Only my heart knows how I spent nearly two years in the prison . a jail in a foreign country whose language you don't know," said Sushil Kapoor, 31.
Manoranjan Behera, the 28-year-old commander of the ship, said they suffered in prison while the ship owners remained free. "They are roaming free in Dubai. Why, why is this happening?"