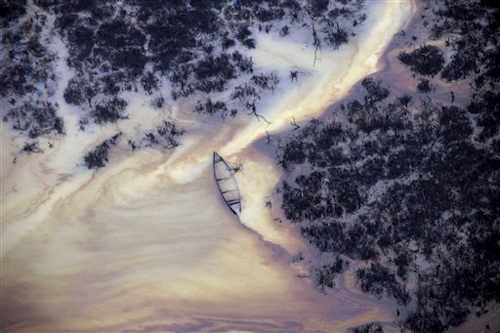 LAGOS, Nigeria (AP) — Amnesty International says oil giant Shell's claims of cleaning up spills that have destroyed the livelihoods of hundreds of thousands of Nigerians are "false."
A report issued Tuesday quotes one contractor as saying his clean-up was "a cover-up."
Shell Nigeria rejects the findings and says it is "committed to cleaning up all spills" including in Ogoniland, where community protests forced Shell out in 1993.
The report says one Ogoniland area still is blighted though Shell said it was cleaned up 40 years ago and again after a 2011 U.N. investigation found massive contamination.
Amnesty says Shell Nigeria does not use the same standards as its European parent company. It also accuses Nigeria's government, the majority owner in Shell Nigeria, of an "almost complete failure" to regulate the industry and protect people's rights.