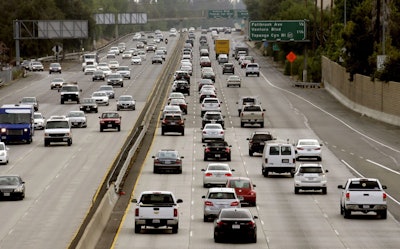 Gov. Jerry Brown signed a dozen bills Tuesday aimed at helping California put more zero- and low-emissions vehicles on its roadways.
Reducing greenhouse gas emissions from cars is one of the key ways California is trying to meet its ambitious goals of reducing how much climate-changing gas the state releases into the air. The state is working toward putting 1.5 million zero-emission vehicles on the road by 2025 — an ambitious target. The transportation sector was the largest contributor to greenhouse gas emissions in 2015, at 40 percent, according to the state Air Resources Board.
The bills Brown signed require the state to purchase more zero- and low-emission vehicles and extend incentives for low-income Californians to buy electric vehicles, among other things.
California's existing Clean Vehicle Rebate Project provides rebates of up to $7,000 to people who buy or lease zero-emission or plug-in hybrid vehicles. Applicants with lower incomes get priority on the rebates, but that was scheduled to end this year.
A bill by Democratic Assemblyman Jim Cooper of Elk Grove maintains the focus on low-income applicants through 2019.
Two other bills require the state to increase its purchase of zero-emission vehicles to 50 percent of its light-duty fleet by 2025 and 30 percent of its heavy-duty fleet by 2030.
More electric vehicle charging stations could be popping up at state parks and beaches under a bill by Democratic Assemblywoman Autumn Burke of Inglewood. Brown signed her bill allowing electric companies to propose charging station pilot programs.
In a signing message, Brown warned the charging stations should be placed thoughtfully.
"Deployment of charging infrastructure should take place in locations that make the most sense and that minimize any increased costs to ratepayers," he wrote.
Brown signed the rest of the bills without comment.