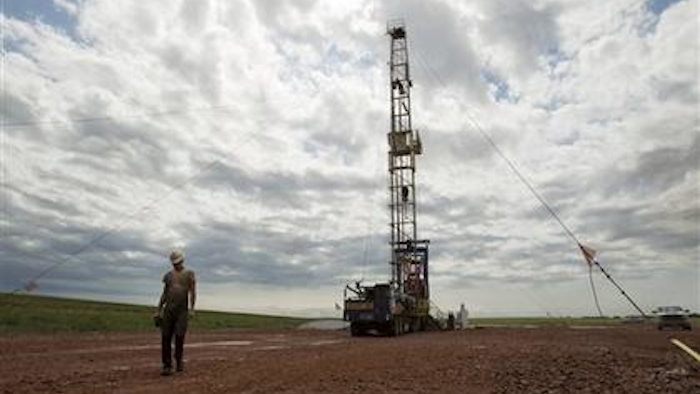 Illinois lawmakers signed off Thursday on long-awaited rules regulating high-volume oil and gas drilling, a practice that lawmakers and industry hope will unleash an economic boom in the southern part of the state.
The rules, which the state Department of Natural Resources has been working on for more than a year and tweaked in recent weeks at the request of a legislative committee, come after months of complaints from industry officials that the DNR was delaying the start of hydraulic fracturing for oil and natural gas in southern Illinois.
The Illinois Legislature last year passed a measure praised as a model of compromise on how to regulate the drilling practice, but that cooperation broke down when draft rules were criticized by both industry and environmental activists.
State officials expressed confidence that the new rules would address the concerns raised in 30,000 public comments in response to those initial rules.
"All of the changes that were made were because the earlier proposed rules were inconsistent with the statute," said Democratic state Sen. Don Harmon, the committee chair.
But both environmentalists and industry officials expressed concerns about the changes to the proposal, which they said they have not yet seen.
"This was working reasonably well until a draft was sent into a smoke-filled room," said Ann Alexander, attorney for the Natural Resources Defense Council.
The rules must be made public by Nov. 15, the deadline for them to be in place.
Hydraulic fracturing uses a mixture of water, chemicals and sand to crack open rock formations thousands of feet underground to release trapped oil and gas. Opponents fear it will pollute and deplete groundwater or cause health problems. Industry officials insist the method is safe and will prompt the same economic boom seen in other states such as North Dakota. They warned that Illinois risked losing out on a bonanza as the months went by while the state agency crafted the rules.
Now that the committee has signed off on the plan, state officials said drillers could begin applying for permits later this month. Permits, according to the rules, must be approved within 60 days.
Mark Denzler, chief operating officer of the Illinois Manufacturers' Association, said he was "extremely thrilled" with the new set of rules, calling them, "above and beyond what had been envisioned."