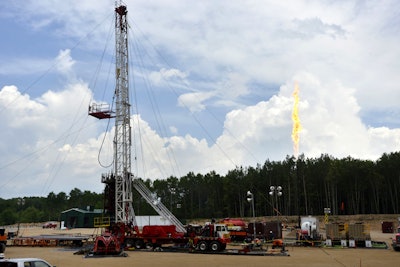 The Obama administration Friday announced new rules governing fracking on public lands, a proposal that drew swift condemnation from the oil and gas industry.

The U.S. Interior Department said the regulations would increase standards for oil and natural gas well barriers and for wastewater storage. The proposal would also require companies to publicly disclose chemicals used in fracking operations and provide greater details regarding the geological features of pre-existing wells.

Interior Secretary Sally Jewell said the measures stemmed from discussions with energy companies, local governments and environmental groups and said the cost would amount to a tiny fraction of the total needed to drill a well.

"Current federal well-drilling regulations are more than 30 years old and they simply have not kept pace with the technical complexities of today's hydraulic fracturing operations," Jewell said.

The increased prevalence of fracking in the U.S. in recent years led to historically high domestic oil and natural gas production, but the sector hit a snag in recent months amid a collapse in global oil prices.

The rules will take effect in 90 days and only impact hydraulic fracturing operations on federal or American Indian lands—an estimated 100,000 wells, according to the Interior Department. The majority of the nation's fracking occurs on private or state-owned lands.

Industry groups, however, hammered the proposal; the Independent Petroleum Association of America and the Western Energy Alliance filed a federal lawsuit in Wyoming in hopes of blocking the rules.

"Despite the renaissance on state and private lands, energy production on federal lands has fallen, and this rule is just one more barrier to growth," said Erik Milito of the American Petroleum Institute.

Republicans in Congress who've long criticized the administration's energy policy also lined up in opposition.

"If Interior was half as interested in new production as it is in new regulation, our nation would be in a far better place," said Lisa Murkowski of Alaska, who chairs the Senate's energy committee.

Environmental advocates, meanwhile, aren't entirely thrilled with the administration's proposal either.

Fracking uses a high-pressure combination of water, salt and chemicals to crack shale rock and access underground crude, a process that raised concerns such as water contamination, air pollution and even small earthquakes near wells.

"These rules put the interests of big oil and gas above people's health, and America's natural heritage," said Amy Mall of the Natural Resources Defense Council.