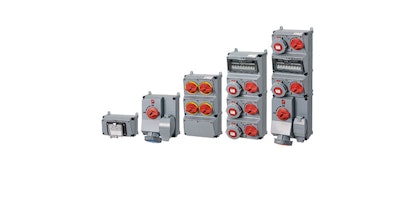 Custom power distribution centers provide measurable economies of scale that instantly benefit any facility or situation.
Enclosure systems, for instance, offer an affordable solution for configurable power distribution. And, by quickly and easily customizing your application, manufacturers are able to replace multiple receptacle installations with one unit, thus saving labor, material and space.
Whenever manufacturers spend time designing a power distribution center to better meet current and future power requirements, time and money is expended that you can't get back.
So, consider just a few of the benefits that can result directly from adopting the latest innovations in power distribution.
Flexibility
The latest all-in-one systems offer an endless amount of made-to-order, pre-wired customization options and offers complete flexibility to meet both current and growing needs. RoHS compliant and environmentally-friendly modular systems also are available in multiple, application dependent sizes and are made to scale with a broad range of wiring device options.
Save Space
Utilizing an enclosure system to meet power distribution needs allows you to replace multiple receptacle installations. You'll immediately recoup valuable real estate on the plant floor and simplify your power distribution system footprint. Additionally, manufacturers who customize their power distribution centers through modern enclosure systems benefit from simplified design, assembly, troubleshooting and modification of their power distribution applications to match business growth.
"Facilities that aren't using an enclosure system for power distribution can waste design time, mounting space and money, "explains Paul DiAntonio, Vice President of MENNEKES. "Recently, a winery switched from a large power distribution design with custom stands, separate devices boxes and mounting hardware into a single unit with a single set of hardware. They were thrilled with how easy it was, and they couldn't believe the space and installation savings when compared to traditional installation."
Save Time
Manufacturers are finding the installations of these new enclosure systems on the market to be relatively fast. This is because the availability of pre-wired factory units facilitates simplified field installations. In fact, the ease of use is inherent in all facets of the adoption process, with manufacturers of the new power distribution centers providing comprehensive, easy-to-access wiring instructions.
Conclusion
In addition to benefits outlined above, manufacturers should review their power distribution needs and existing installation on an ongoing basis.
If you're experiencing facility growing pains and need more power in an existing footprint but have limited monetary resources, this system might be your solution to satisfy growth requirements — plus, you'll get the freedom and versatility you need today and in the future.