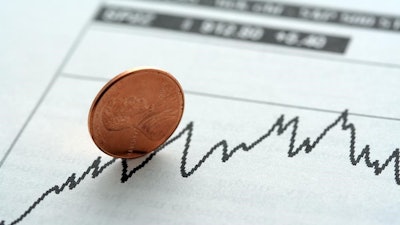 DepositPhotos
The global car market has likely witnessed an acceleration in the adoption of electric vehicles (EV) worldwide after a range of traditional carmakers, such as General Motors, Ford, Volkswagen, Daimler, BMW, and others, announced plans to ramp up the production of EVs. 
The acceleration in adoption is also likely to help less known EV companies to gain more traction and attract higher investors' attention. In this space, companies, such as Ideanomics (NASDAQ: IDEX), have emerged to position themselves as one of the key EV penny stocks to watch in the coming months. 
The company, which uses the latest financial technology to accelerate the adoption of commercial electric vehicles, announced an investment into FNL Technologies, including a sale of Grapevine Village to FNL. Under the deal, Ideanomics invested cash and stock consideration into FNL along with the FNL's buyout of Grapevine Logic from Ideanomics. 
In exchange, the company will gain a roughly 20% stake in FNL, a company that owns and manages the hoo.be social media platform that provides celebrities, influencers, and companies with easy access to all official social media platforms. 
"We are delighted to make this investment into FNL, with their fast-growing hoo.be platform a strategic growth partner for Grapevine's influencer marketing offering. Since announcing our planned divestiture of Grapevine, we have been looking for a strong partner which would allow Grapevine to flourish and Jordan and the team at FNL impressed us as a synergistic partner to help boost Grapevine's growth and expansion plans going forward" said Alf Poor, chief executive of Ideanomics. 
The network is used by a number of athletes, artists, and other celebrities including 50 Cent, Chris Paul, Steve Aoki, and Manon Mathews, among others. 
"We're grateful for the support of the whole team at Ideanomics, whose investment and network will open up significant doors to help us evolve and scale our platform," said Jordan Greenfield, CEO of Hoo.be
Ideanomics is an emerging fintech company focused on accelerating the adoption of commercial electric vehicles and developing next-gen fintech solutions and services. Its Mobility unit is focused on facilitating the adoption of EVs by commercial fleet operators and by providing car procurement, finance, and leasing services, as well as energy management solutions. 
Ideanomics Capital division, on the other hand, develops disruptive fintech products. Ideanomics Capital also includes units DBOT ATS and Intelligenta which offer financial services based on AI and blockchain.  
Ideanomics stock price closed over 10% higher last week as buyers pushed to recover a portion of losses recorded in recent weeks. A move higher came after sellers forced the price action to hit a 4-month low at 2.23 earlier this week. 
Ideanomics share price now trades in between the 100 daily moving average (DMA) and 200 daily moving average, which is likely to define the short-term price action. 
For comparison purposes, the Global X Autonomous & Electric Vehicles ETF, which includes companies involved in the development of EVs, is trading about 5% off the record highs set in February.