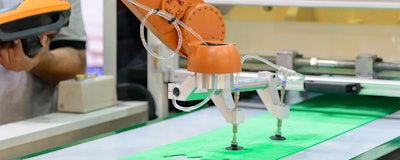 U.S. manufacturing technology orders showed gains for May 2017 and year over year, according to the latest U.S. Manufacturing Technology Orders (USMTO) report from The Association For Manufacturing Technology (AMT).
"As we've now seen year-over-year growth for four consecutive months, and with that growth acceleration, all signs indicate a continued trend of strength for the manufacturing technology industry," said Pat McGibbon, AMT Vice President of Strategic Analytics. "With activity growing in many geographic regions and continued strengthening in key industries like job shops, autos and aerospace, all of this suggests the market will continue to grow and stay strong for the coming months."
The automotive sector place significant orders in May and machine shops continue to invest in technology, signifying that manufacturers are adding capacity. These gains in technology orders are in line with other positive industry indicators such as industrial production, rising exports, continued industry expansion as indicated by the PMI and strong consumer sentiment.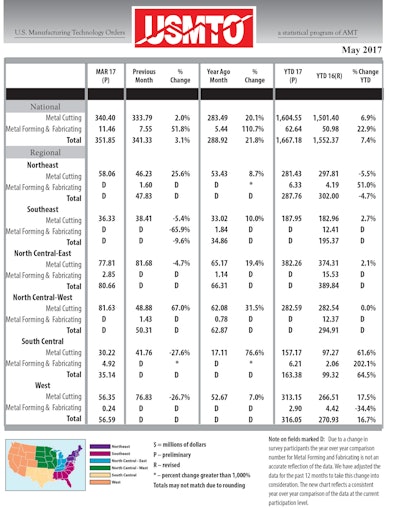 Orders for May 2017 totaled $351.85 million, compared to $341.33 million in April and $288.93 million in May 2016. Year to date, orders are valued at $1,667.18 million, compared to $1,552.37 million for the same point in 2016. May orders were up 3.1 percent over April, and 21.8 percent over May 2016.
USMTO is a reliable leading economic indicator as manufacturing companies invest in capital metalworking equipment to increase capacity and improve productivity.