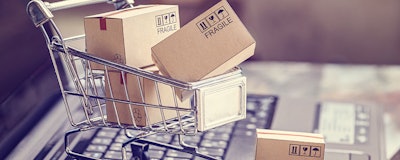 When the subject of e-commerce comes up, it's easy to think of retail giants like Amazon and eBay, particularly when such companies talk about speeding up the delivery cycle, as Amazon has done in making one-day delivery the norm. But e-commerce is much more than retail; its ripples spread wide, rolling through every industry and manufacturing is no exception. When Amazon talks about one-day delivery, the pressure on other industries ramps up to ensure that order fulfillment is done quickly, efficiently and accurately. Speed, efficiency and accuracy are critical at the manufacturing level, because ultimately what happens there will have an impact on the end consumer. The pressure is amplified during the holiday season, with the number of orders and demand for a fast, and accurate, turnaround exploding.
The challenges in the supply chain are made more daunting because sales order processing in many ways is still a highly manual operation. Sales order processing is crucial to any manufacturing company's short and long-term success. Any hitch in the system can slow down the supply chain and ultimately harm customer service, and a manual operation introduces the likelihood of many hitches in everything from costs and errors to slower order fulfillment. For example, the lack of visibility into the process can make it more difficult for the company to plan and budget, as well as unable to identify urgent orders. Order processing errors can result in additional expenses related to reshipping and restocking, production delays, inventory problems and missed or wrong orders. In addition, reselling an incorrectly shipped product is not guaranteed: once it's out, there's a chance that the manufacturing company will be on the hook for more monetary losses.
A manual system also means slower processing cycle times, leading to delays in order shipping, higher costs and poor customer relationships after failing to meet service-level agreements (SLA). Unhappy customers can lead to those customers not coming back, instead finding someone else to do business with. In addition, in an era of growing numbers of spin-offs, mergers and acquisitions and divestitures, manufacturing companies, like those in other industries, are faced with increased complexities in their business processes. Paper-based order processing only complicates the situation and drives up costs.
What manufacturers can do is automate the order process, from the moment an order is received — whether by fax, email, EDI or some other avenue — to when the corresponding document is created in the business application. Workflow rules within the automated customer order software ensure that the data is captured and sent to the correct personnel, all automatically.
In all, when manufacturers automate the order process, they can expect as much as 90 percent higher order processing speeds than with manual processing. The benefits of automated customer order management software are myriad:
Tangible and abstract waste is eliminated: Less physical labor is required, fewer supplies are used, infrastructure costs are reduced, less time is spent processing orders, and there's less reliance on other departments, such as IT.
Visibility is enhanced: It's easier to mitigate risk while improving forecasting, workflow prioritization, budgeting and planning, while meeting or exceeding SLAs.
Improved customer experience: Customer service representatives (CSRs) can more quickly resolve issues because they have complete electronic access to documentation, employees can spend more time working with customers and on other value-added tasks, more time is made for customer-friendly initiatives and customers are happier, which means your business reputation is solid.
These benefits are derived from improved speed, accuracy and efficiency. When an order can be quickly and accurately admitted into the supply chain through the order entry system software, the advantages flow throughout the system. For example, employees in customer service, production planning, shipping and logistics have more time to coordinate the delivery of the products, visibility across multiple formats and channels is improved, costs can be taken out of the process and EDI exceptions are dealt with automatically. Automated order processing software also offers customizable dashboards, which give the ability to monitor performance, allocate resources and update order status, as well as provide Key Performance Indicators (PKIs) to give greater visibility to CSRs, managers and executives alike. These dashboards also can help on the customer service side, including automatically keeping track of orders to the number of complaints that are waiting to be resolved, all of which means improved customer satisfaction.
So, what should you look for when selecting an automated order processing solution? Capabilities that could benefit any manufacturing organization include:
A collaborative platform that can automate myriad business processes
One-step document validation and reconciliation
Integration with ERP systems and other business applications, such as software from the likes of SAP and Oracle
A web-based workflow that lives outside of the ERP and business systems
Support for such global initiatives as shared service centers
A process-focused approach and proven implementation methodology, including Agile and change management
Manufacturers are finding themselves in a rapidly evolving and highly challenging business climate. There is pressure to get orders processed more quickly and products out the door as fast as possible, all while operating as efficiently and accurately as possible. Often the businesses themselves are becoming more complex due to acquisitions, spin-offs and divestures, and many manufacturers are having to do all this while running manual, paper-based order processing systems. Automated order processing solutions can remove many of these headaches, leading to more accurate order fulfillment, better visibility into the entire process, reduced costs and improved customer satisfaction. It's a worthwhile investment.
Steve Smith is U.S. Chief Operating Officer at Esker.