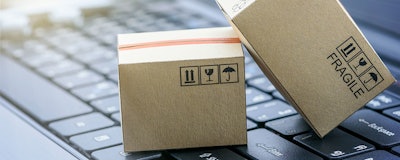 B2B buyers' growing expectations for the fast and convenient service they get in their personal lives are putting major pressure on salespeople to keep up with demand. According to Salesforce research, 80 percent of business buyers expect B2B companies to respond and interact with them in real time. With customers on the line, businesses need new ways to create a faster and more streamlined process for buyers to purchase. That's where self-service technology comes in.
In many B2B sales organizations, there is a perceived tension between digital commerce and sales teams. However, in reality, the opposite is true. Salespeople's jobs aren't being replaced by digital commerce — instead, it's enhancing their performance. While customers use digital commerce to research and place routine orders on their own time, salespeople are freed up to focus on more strategic initiatives that drive business growth and increase customer satisfaction.
To ease concerns about digital commerce technology, manufacturers must deconstruct common myths that are driving resistance and communicate how salespeople can benefit from providing exceptional online experiences to customers through digital.
Myth #1: "My role will be replaced by commerce automation."
Salespeople are nervous about rising customer demand for digital self-serve options. If customers can purchase online without brand assistance, sales reps fear they won't receive credit for their hard work and their jobs will quickly become obsolete.
Myth Busted: The adoption of digital commerce doesn't reduce the need for salespeople, but it changes the role they play in the sales process. In a recent CloudCraze study, nearly two-thirds of B2B decision makers (60 percent) reported that the growth of digital has caused their sales team to grow in tandem. As a result, nearly a third (31 percent) of B2B decision makers have reported their sales teams' roles have shifted in response to the growth of digital.
Similar to other industries disrupted by automation, instead of managing administrative details, sales staff can elevator their role within the company — winning new business and serving as a strategic resource to existing, high-value customers. And this shift is already in motion; 42 percent of B2B decision makers report sales reps now serve as more of a trusted advisor for customers rather than an order taker.
How to Alleviate Concerns: Executives need to educate team members about the role digital commerce can play in the sales process and how they can use it to enhance their own performance. Training sales reps on how to effectively analyze data from eCommerce can provide them with another tool in their arsenal, resulting in more opportunities for them to cross sell and upsell. In essence, digital commerce can serve as a sales reps' 24/7 assistant that will create more lucrative opportunities for salespeople.
Myth #2: "My relationships with customers will suffer if I encourage them to interact with the brand online."
In the manufacturing industry, sales is a high-touch, relationship-based process. The large price tag associated with goods like construction or automotive equipment made traditional high-touch sales reps/customer relationships critical to closing sales. After years of nurturing strong customer relationships, it is only natural that sales reps are protective of these relationships and openly skeptical of their ability to retain customers if interactions become low touch.
Myth Busted: Digital commerce won't drive customers away. Business buyers want to research products and make purchases online — a whopping 64 percent of these B2B buyers research half or more of their work purchases online, according to Forrester/Internet Retailer Q1 2017 research. Robust digital commerce platforms are complementary tools that meet customer demands and enable salespeople to shift additional focus to nurturing customer relationships and playing a higher value role.
How to Alleviate Concerns: Demonstrate the practical ways digital commerce can complement the work of the sales team. Go beyond standard solution demos to develop scenarios and role plays showing how sales reps can assist with purchases and offload tasks that translate to more face time with customers.
Myth #3: "Digital commerce will hurt commissions and negatively impact my income."
Digital commerce presents a perceived threat to salespeople who rely on commissions for a share of their compensation packages. Frequently, sales reps worry that self-service transactions will reduce the volume of sales attributed to the sales team and ultimately mean less money in their pockets.
Myth Busted: Self-service reduces the amount of time salespeople must devote to order taking, freeing up time to focus on more strategic initiatives. Digital commerce that is built on top of a CRM system also generates a significant quantity of data for a more holistic view of the customer. Sales teams can use information like online search activity, product preferences and purchase histories to grow cart size (and commissions) through new cross-sell and upsell opportunities, while simultaneously resulting in more satisfied customers.
How to Alleviate Concerns: Ensure salespeople do not lose the incentives that have motivated them in traditional sales channels. In addition to giving salespeople credit for their existing customers' online sales, consider enhancements and reward mechanisms that spur adoption of the digital channel. Businesses should consider strategies like incentives to drive customers online or bonuses for increases in average online order value.
In addition to deconstructing the myths surrounding digital commerce, it's also important to consistently communicate a positive, overarching message about the future that resonates with your sales force. The big picture is that effective commerce provides benefits to the business, customers and the sales team. By helping sales reps recognize those benefits, you can streamline the shift to online purchasing and generate more revenue for the organization.
Paul do Forno is Managing Director at Deloitte Digital and Ray Grady is CCO & President at CloudCraze.