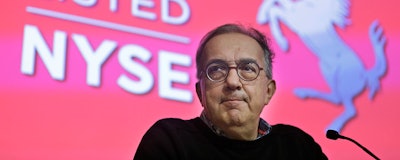 The heir to Fiat's founding family has paid an emotional farewell to the late CEO Sergio Marchionne, who died suddenly in July, saying "he taught all of us ... to have the courage to change."
John Elkann, his voice cracking, echoed Marchionne's indefatigable work ethic in his homage, saying "never take a break or a deep breath after a victory, because life doesn't stop."
Marchionne, who turned around both Fiat and U.S. carmaker Chrysler to create FCA, died July 25 at the age of 66 after complications following shoulder surgery in a Swiss hospital.
The Turin cathedral was packed with Italian workers clad in assembly line jumpsuits and black-suited executives spanning decades of Fiat's often difficult history. Mourners also included two former prime ministers, local officials and family members.