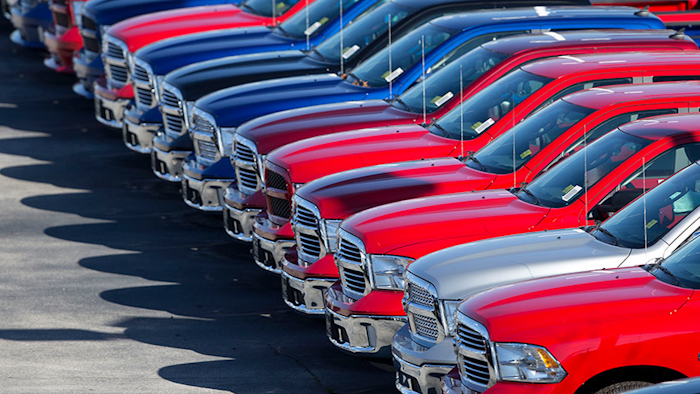 Most of the largest U.S. automakers on Thursday reported increased sales in November compared to the same month in 2015.

The exception among the nation's top six auto companies was Fiat Chrysler, which saw its sales decline by 14 percent over that span.
FCA attributed the slide primarily to reduced sales to rental fleets; retail sales fell by just 2 percent.

The company's flagship Chrysler and Fiat brands declined by 27 percent and 19 percent, respectively, while strong truck and SUV sales led to sales increases of 11 percent by Ram and 8 percent by Jeep. Dodge sales fell by 2 percent.

FCA's "Big Three" rivals General Motors and Ford, meanwhile, each posted sales gains last month.

GM sales increased by 8 percent while each of its four brands saw individual increases -- led by Buick at 22 percent and Cadillac at 17 percent. GMC and Chevrolet, its largest brand, followed at 9 percent and 5 percent.

Ford reported a 5 percent sales increase with help from a 19 percent gain by its luxury Lincoln brand.

The top overseas automakers also reported improved sales in November, with Nissan at a 7.5 percent increase, followed by Honda at 6.5 percent and Toyota at 4 percent. Both Nissan and Honda said their numbers represented new records for November.

Those six automakers accounted for more than 75 percent of the U.S. auto market in October, according to numbers from The Wall Street Journal.

Volkswagen, meanwhile, reported a 24 percent sales increase compared to the previous November, when the company was bearing the brunt of the scandal over its diesel emissions.