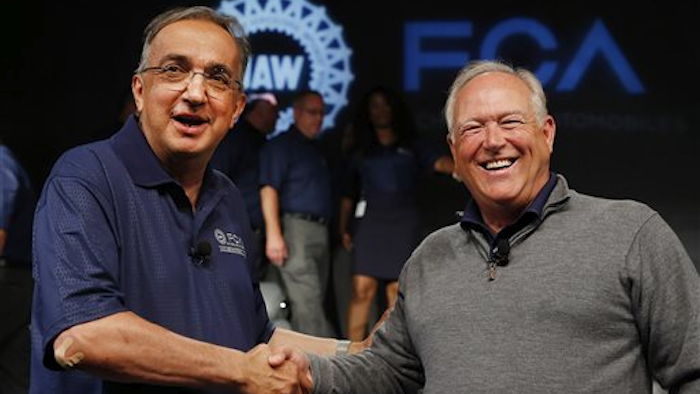 DETROIT (AP) — The United Auto Workers union unveiled a richer proposed contract with Fiat Chrysler on Friday, a week after angry union members voted down a previous agreement.
The new agreement would gradually eliminate a much-maligned tiered pay system and bring all U.S. factory workers to the same wage over eight years. The previous agreement had only promised a top wage of $25 per hour for lower-tiered workers, which is less than the $29 per hour that longtime workers would make.
About 45 percent of FCA's U.S. hourly workers are newer hires who now make wages as low as $15.78 per hour. The union said the typical lower-tier worker will see gains of $44,000 in wages and bonuses over the life of the four-year contract, up from $25,000 in the previous agreement.
Like the previous agreement, the new contract also promises the first raises in nine years for the highest-paid workers.
Top-tier workers will get a $4,000 bonus if the agreement is ratified; lower-tier workers will get $3,000. The previous contract promised $3,000 bonuses for all workers.
The new agreement calls for a $5.3 billion investment in U.S. plants, as the previous agreement did, but this time the UAW spelled out which plants would get that investment in a summary given to workers. The union also emphasized that members' health care benefits won't change under this agreement, something it failed to do in the previous summary.
Union members will now vote on the new agreement, which covers around 40,000 workers at 23 U.S. plants.