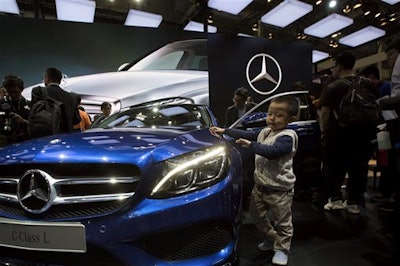 BEIJING (AP) — China's government said Monday it has concluded Mercedes-Benz violated anti-monopoly law and charged excessive prices for parts, adding to a growing number of global automakers snared in an investigation of the industry.
The luxury unit of Germany's Daimler AG abused its control over supplies of spare parts to engage in "vertical price-fixing," according to the official Xinhua News Agency. It said investigators from the price bureau of the eastern province of Jiangsu found prices were so high that purchasing the parts used to make one Mercedes C-class car would cost the equivalent of buying 12 vehicles.
An official said earlier that Volkswagen AG's Audi unit and Fiat Chrysler Automobiles NV's Chrysler would face unspecified punishment for violating the anti-monopoly law.
Chinese regulators have launched investigations of foreign auto, technology, pharmaceutical and dairy companies over the past two years using the 2008 anti-monopoly law in an apparent effort to force down consumer prices.
"Mercedes-Benz is a typical case of vertical price fixing — that is, the use of its dominant position in after-market parts to maintain price controls," said Zhou Gao, chief of the Jiangsu price agency's anti-monopoly unit, according to Xinhua.
It gave no indication what penalty Mercedes might face.
In response to questions, Mercedes said it was "assisting the authorities" in the investigation.
"Please understand that we are unable to comment further on what is still an ongoing matter," the company said in a statement.
Monday's report gave the clearest explanation yet of the grounds for the industry probe.
Industry analysts have suggested regulators were motivated by complaints global automakers use their control over supplies of spare parts to charge inflated prices.
Toyota Motor Co. has said its Lexus unit also is under scrutiny. General Motors Co.'s main China joint venture said last week it has responded to requests by regulators for information but gave no indication it was the target of a formal investigation.
Business groups welcomed the enactment of China's anti-monopoly law in 2008 as a step toward clarifying operating conditions. Since then, they have said it is enforced more actively against foreign companies than against local rivals.
Other companies under investigation include Qualcomm Inc., a San Diego, California-based maker of chips used in mobile phones, and software giant Microsoft Corp.
Mercedes and Audi responded earlier to the investigation by cutting prices for replacement parts such as windshields by up to 38 percent. Chrysler cut prices of imported vehicles.
The European Union Chamber of Commerce in China, in a statement last week, expressed concern foreign companies might be "disproportionately targeted" by regulators. The chamber said it had received reports of "intimidation tactics" by regulators who pressure foreign companies to accept punishments without a full hearing or involving their governments.
"Competition law should not be used as an administrative instrument to harm targeted companies or serve other aims, such as administratively forcing price reductions," the chamber said.
On Monday, a Ministry of Commerce spokesman denied foreign companies were treated unfairly.
"Launching an investigation into monopoly-like behavior is a common practice internationally," said the spokesman, Shen Danyang, according to the ministry website. "We are not just targeting foreign-funded companies."