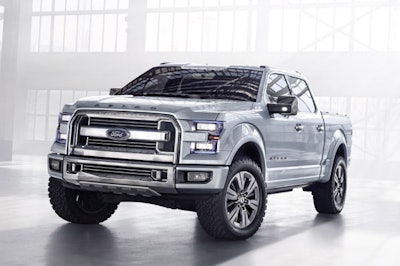 DEARBORN, Mich. (AP) -- Ford says its aluminum-sided F-150 pickup will hold its own against rivals despite its lighter weight.
The company revealed details of the new truck Tuesday. The 2015 F-150 4x4 goes on sale this fall and is 732 pounds lighter than the outgoing model.
Ford's base truck with a 3.5-liter V6 engine will get 283 horsepower, similar to a Chevrolet Silverado but lower than a Ram. But Ford says its 7,600 pounds of towing capacity will top both rivals.
See More: The Art of Manufacturing the 2015 Ford F-150
An F-150 with Ford's new 2.7-liter EcoBoost V6 engine will get 325 horsepower — more than a Ram EcoDiesel — and can tow 8,400 pounds. The company expects half of its buyers to choose one of its two fuel-saving EcoBoost engines.
Ford will release fuel economy and pricing later this year.