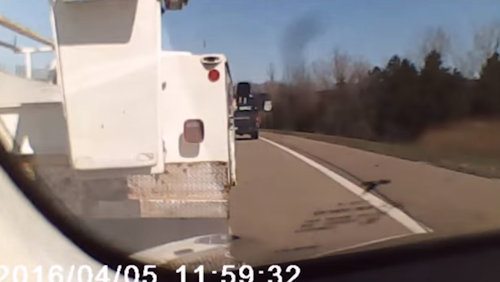 A Tesla driver caught on his dashcam the moment at which the car's autopilot saved him from a collision with a truck.
According to a driver known on YouTube as Joshua Brown, a truck was merging onto an exit ramp and entered a lane already occupied by the Tesla Model S. The video shows the moment at which the car edges itself to the side to get out of the way of the larger vehicle.
Brown writes, "You can see where I took over when there's a little bit of blip in the steering. Tessy [the car] had already moved to the right to avoid the collision."
Brown also pointed out that he was listening to an audio book at the time – thus the narration heard in the background of the video.
Brown wrote that "I have done a lot of testing with the sensors in the car and the software capabilities … but I had not tested the car's side collision avoidance." He has now – and seems to be very pleased with the results. He said he has had the car since July 2015, and put more than 39,000 miles on it.
Tesla has been experimenting with full autopilot for some time, and leverages active sensors for the 360 degree sensing in the Model S. Autopilot isn't ready for the mainstream yet, though, and collision avoidance requires decisions software is still learning to make.