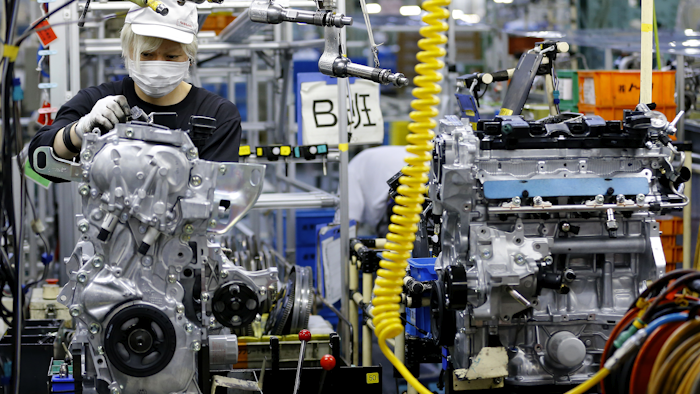 Nissan Motor Co.'s profit fell 32 percent in the last quarter from a year earlier as a strong yen, rising raw materials costs and research expenses bit into earnings, the Japanese automaker reported Monday.
Nissan's January-March profit was 168.8 billion yen ($1.5 billion), down from 249 billion yen last year. Quarterly sales fell 0.9 percent to 3.4 trillion yen ($31.3 billion).
Nissan said some losses for the fiscal year through March, such as costs from production halts in Japan due to illegal inspections that surfaced last year, have now ended.
Its results were also hit by class-action lawsuits in the U.S. over defective air bags made by supplier Takata Corp. Those are not expected to continue in this fiscal year either.
Nissan's full-year profit rose 12.6 percent to 746.9 billion yen ($6.8 billion), helped by U.S. tax reforms and relatively solid global vehicle sales, according to the Yokohama-based maker of the March subcompact, Leaf electric car and Infiniti luxury models.
Nissan, allied with Renault SA of France, is expecting global vehicle sales to grow this fiscal year to 5.925 million vehicles.
Its global vehicle sales for the fiscal year through March reached a record 5.77 million vehicles, up 2.6 percent on- year.
By region, vehicles sales rose in Japan, despite the inspections scandal and production halts. Sales also grew in North America, where the Rogue sport-utility vehicle was popular, Nissan Chief Executive Hiroto Saikawa told reporters.
Saikawa said Nissan's alliance with Renault, set up in 1999, when Nissan was on the verge of bankruptcy, as well as the more recent one forged with Japanese automaker Mitsubishi Motors Corp. were going well.
Nissan has been aggressive in pursuing electric vehicles, with its Leaf being the world's best-selling pure electric vehicle. Nissan is also aggressive in pursuing new mobility services such as car-sharing and autonomous drive.
Although all the world's automakers are pursing such technology, there are clear differences in how quickly, and how passionately, each company has invested in its development.