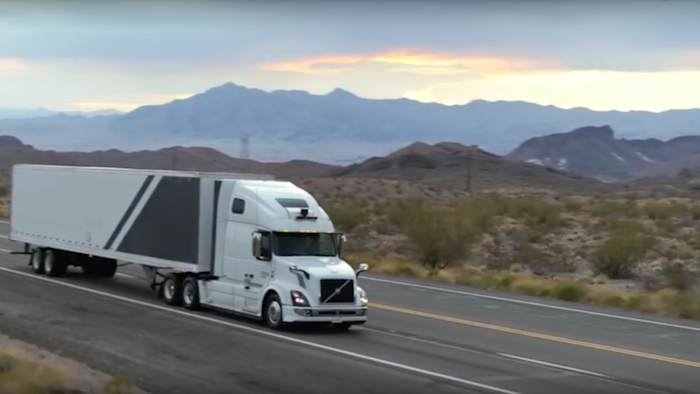 Uber continues to test self-driving trucks in real-world deliveries in Arizona, USA Today reported on Tuesday. 
While Uber did not disclose which trucking companies are involved, they have demonstrated how Uber Freight works. In a video, a short haul trucker delivers their load to the Arizona state line. For now, an Uber Freight employee accompanies the truck, turning on the self-driving mode on the highways. Uber Freight also coordinates shipping, potentially replacing scheduling done traditionally through phone and email. 
Uber's Advanced Technology group developed the software — and recently settled a lawsuit with Google's self-driving car venture, Waymo. Waymo claimed that Anthony Levandowski, a former Waymo employee and founder of the self-driving truck company Otto, had stolen trade secrets related to light detection and ranging sensors and passed them on to Uber when Uber acquired Otto. Uber did not admit guilt, but did pay $245 million to settle. The trucks Uber Freight uses are made by Volvo.
The limiting factor for the self-driving effort now is city navigation. Uber does not have the technology to make sure trucks can safely navigate through a city to their destination. 
"The big step for us recently is that we can plan to haul goods in both directions, using Uber Freight to coordinate load pickups and dropoffs with local truckers," said Alden Woodrow, product lead for Uber's self-driving trucks. "Keeping trucking local allows these drivers to make money while staying closer to home."
Woodrow said that he does not envision Uber running a fleet itself, so it's more likely that the software may become available for shipping companies to purchase and implement on their own. 
With 70 percent of domestic freight hauled by truck, an increase in autonomous vehicles could mark a major shift for truckers — a skillset which is currently in demand. Uber itself tackled the economic side of it, saying that skilled truckers will still have plenty to do even if the vehicles are doing the driving. 
"The biggest technical hurdles for self-driving trucks are driving on tight and crowded city streets, backing into complex loading docks, and navigating through busy facilities … These maneuvers require skills that will be hard for self-driving trucks to match for a long time."
Another advantage Uber says this brings is that truckers can work short haul shifts while autonomous vehicles take long haul routes, keeping drivers closer to home.
Last year, Uber self-driving vehicle tests in Arizona were temporarily stalled after a crash involving an autonomous Volvo SUV.