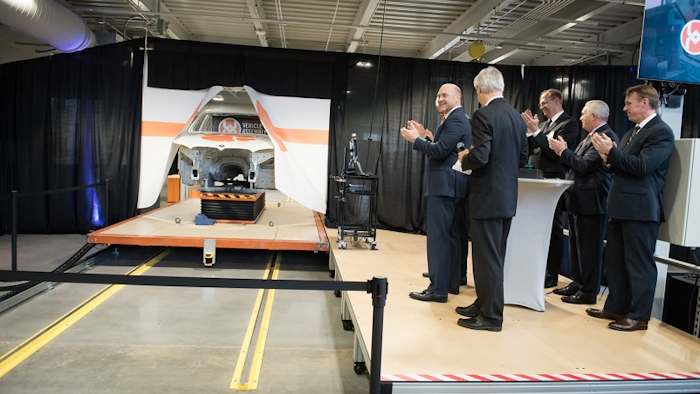 Siemens Manufacturing and BMW have partnered with Greenville Technical College to build a new facility for the development of assembly line technology. The addition, which is located next to and in partnership with the Clemson University International Center for Automotive Research, is part of the colleges' effort to close the manufacturing skills gap in South Carolina.
The ribbon-cutting was held on Feb. 15, five years after construction began.
"As we started coming out of the recession, I started hearing from a lot of manufacturers that we have a critical situation. That critical situation is a skills gap — a shortage of skilled workers — and that gap still exists today," Greenville Technical College President Keith Miller told the Greenville News.
The Vehicle Assembly Center at the Greenville Technical College Center for Manufacturing Innovation will include a full assembly line on which students will be able to learn automotive manufacturing hands-on, as well as a joining lab, sub-assembly lab, embedded devices lab, collaborative robotics, and autonomous factory vehicles. The full assembly line will also be able to be used by researchers who would otherwise have to either disrupt the production of a working assembly line or wait for a natural delay in work in order to experiment. The addition includes a three-station assembly line specifically for manufacturing research.
"The speed of adoption is critically important. The Assembly Center will allow for quicker evaluation and development of new technologies to provide solutions to our global BMW production network," said BMW Group Senior Vice President for Technical Planning Dirk Hilgenberg. "The students trained in the Vehicle Assembly Center will be key enablers to implement the results effectively in real-world production."
"We are embarking on a new model where academia and industry can drive compelling research while simultaneously defining a new education paradigm as students at the graduate, undergraduate and technical college levels collaborate on full-scale manufacturing projects and fortify each others' learning," said Laine Mears, Vehicle Assembly Center director and BMW SmartState Chair in Automotive Manufacturing at Clemson University, in a press release.
President and CEO of BMW Manufacturing Knudt Flor noted that the new facility could be a direct line to BMW's Spartanburg, S.C. plant.
Volvo and Mercedes-Benz Vans also announced increased presence in South Carolina in 2016, with both building plants near Charleston.