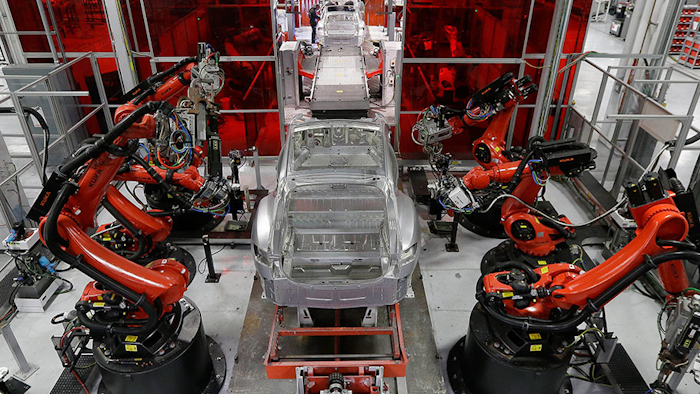 Tesla CEO Elon Musk claims that "the competitive strength of Tesla long-term is not going to be the car; it's going to be the factory" – an ironic move for a company that delayed its 'affordable' sedan yet again.
According to Forbes, Musk made the comment in an earnings call just a day after the other company he leads, SpaceX, shot a Tesla Roadster into space.
"The car industry thinks they're really good at manufacturing and actually they are quite good at manufacturing. But they just don't realize just how much potential there is for improvement. It's way more than they think," Musk said.
His Gigafactory has made the news regularly, from the audacity of the 10-million square foot facility to the losses the company posted in the fourth quarter.
Tesla is working on adding new automation equipment to the Gigafactory factory's battery pack assembly, as well as adding a bespoke parts conveyance system to the Fremont, Calif., assembly plant and considering digging tunnels underground to connect different assembly facilities.
Barclays analyst Brian Johnson challenged Tesla's claims that their technique was different from Toyota's Production System.
In reply, Tesla Chief Technical Officer J.B. Straubel said that "it's more of an optimized operational problem, being extremely lean and really managing the flows of materials and the supply chain."
The proof will come if Tesla continues not to meet its ambitious goals.
"But I can see a path where we get to say 600,000 Model 3 production and 100,000 S and X, so maybe 700,000, which should be like almost 50 percent more than GM or Toyota got out of the plant. I mean that seems achievable," Musk said.
Toyota reported sales of 2,234,515 vehicles in 2017. Tesla delivered 101,312 vehicles.