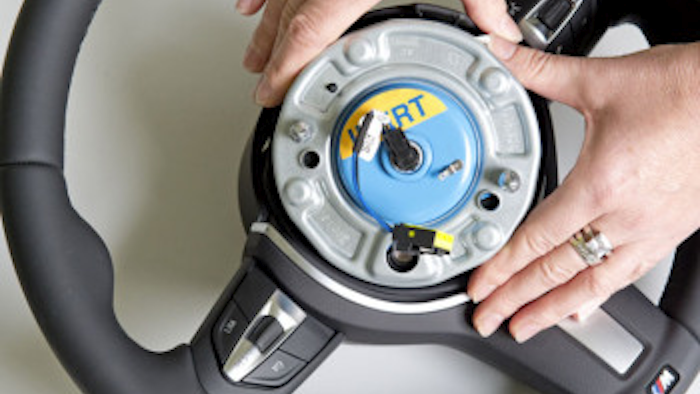 A woman who died in a Los Angeles-area car crash last September is the eighth person killed by exploding air bags made by Takata Corp. of Japan, U.S. safety regulators and Honda Motor Co. confirmed Friday.
The woman was identified in a lawsuit as Jewel Brangman, 26, who died from neck and head injuries when the driver's air bag in her rented 2001 Honda Civic inflated with too much force and spewed metal shrapnel.
Honda and the National Highway Traffic Safety Administration each said Friday that they had determined the air bag caused her death. She is the seventh victim in the U.S. and eighth worldwide, including a woman in Malaysia.
Brangman rented the 2001 Civic in San Diego and was driving in Los Angeles County when the crash occurred. Honda says the car was recalled in 2009 but not repaired even though the company sent four notices to its owners.
Takata uses ammonium nitrate to create a small explosion and quickly inflate air bags. But the chemical can become unstable when exposed to moisture, burning too fast and blowing apart a metal canister designed to contain the explosion.
In May, Takata bowed to U.S. government pressure and agreed to double the number of air bag inflators it's recalling to 33.8 million, making it the largest automotive recall in U.S. history. The problem, which has persisted for more than a decade, has brought congressional hearings and investigations from NHTSA and the Justice Department.
NHTSA Administrator Mark Rosekind said in a statement that Brangman's death in an unrepaired rental car is more evidence of why his agency wants authority to stop the sale or rental of cars with unrepaired recalls.