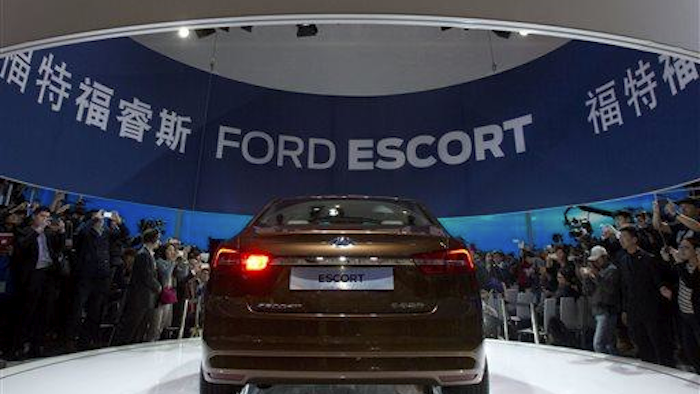 Growth in China's car sales slowed again in September while the country's own auto brands increased their market share slightly.
An industry group said Monday that sales of passenger vehicles in the world's biggest auto market rose 6.4 percent in September from a year earlier, slowing from 8 percent growth in August.
Global automakers are looking to China to drive global sales but growth has slowed steadily from May's rate of 13.9 percent as the world's second largest economy cools.
The China Association of Automobile Manufacturers said total sales, including trucks and buses, rose 2.5 percent over September 2013 to 1.98 million vehicles. Passenger car sales totaled 1.69 million vehicles in September, up from 1.5 million in August.
Sales growth for foreign brands has largely outstripped that of their Chinese counterparts, but local models sold at a faster rate in September, allowing a small increase in market share.
The market share of Chinese brands rose to 38.5 percent in September from 37.1 percent in August and was up 0.2 percent from a year earlier.
German brands held a 19.8 percent share of the market in September, Japanese brands held 14.9 percent, American brands 13.6 percent, Korean brands 9 percent and French brands 3.9 percent.
In comparison, General Motors Co. said sales of GM brand vehicles by the company and its local partners rose 15.2 percent to 319,936 vehicles. The company said that was a record for September and the second-best month for sales this year.
That brought its sales for the year to almost 2.6 million vehicles, an increase of 11.6 percent over the same period last year. Also in September, GM and its joint venture partners surpassed 20 million in all-time sales in China, the company said.
Ford Motor Co. said sales fell slightly in September to 95,875 vehicles, while overall sales for the year through September were up 26 percent to 813,412 vehicles.
Nissan Motor Co., the biggest Japanese brand in China, said September sales fell about 21 percent over the same month last year to 166,000 vehicles, although year-to-date sales maintained steady growth.
German luxury brand BMW AG said its sales in mainland China over the first nine months of the year rose 17.9 percent to 335,863 vehicles.