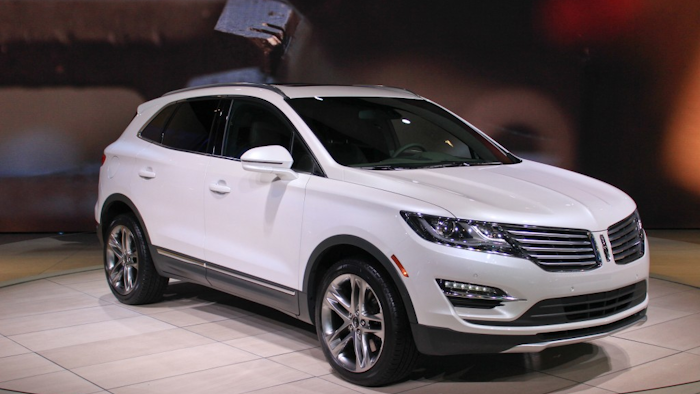 Ford Motor Co. said Monday it has beefed up its workforce and investment at a Kentucky plant to support production of its new Lincoln SUV as the automaker looks to reinvigorate its luxury brand.
The company added 300 workers and invested another $129 million recently at the Louisville Assembly Plant, where Ford makes the Lincoln MKC and Ford Escape, said John Savona, Ford's director of manufacturing.
The sprawling plant ranks as one of Ford's largest manufacturing facilities. The automaker invested $600 million in 2010 to renovate the factory that had churned out Explorers for decades until that production was shifted elsewhere.
The updates gave the plant the flexibility to assemble multiple models at the same time without requiring downtime for tooling changeovers.
The MKC went on sale in May. It's the second of four all-new Lincoln vehicles the automaker plans to introduce by 2016.
"We think it's going to be a very strong competitor in the premium small utility segment, which is the fastest-growing luxury segment on the globe right now," Savona told reporters after the event, which drew state and local officials and union leaders.
Lincoln was America's top-selling luxury brand two decades ago but lost ground after Ford stopped investing in it. In 2010, Ford began working on a plan to remake the brand. Lincoln kicked off its comeback with the redesigned and updated MKZ sedan, and now has followed with the MKC.
The company said it has been pleased with early MKC sales, which totaled 2,895 vehicles through July.
"It's our fastest-turning vehicle right now, sitting on a dealer lot an average of 11 days," Savona said.
It's not unusual for new vehicles to sell quickly.
With the 300 new jobs, the plant's hourly workforce has climbed to about 4,700, along with about 200 management employees.
The plant is running three shifts, seven days a week, Savona said.
Jimmy Settles, a United Auto Workers executive, recalled how the plant struggled as automakers fought to survive during the recession.
"What a beautiful thing to see labor, company and also the government come together for the betterment of the state, the city," he said.
The plant is capable of taking on another model if Ford decides to ramp up production even more, Savona said.
"We're not ready to make any future product announcements, but we're always going to be ready for that and we're fully flexible for that," he said.
Across town, Ford employs about 4,200 hourly workers and another 200 management employees at its Kentucky truck plant. That plant produces F-Series Super Duty trucks as well as the Ford Expedition and Lincoln Navigator.