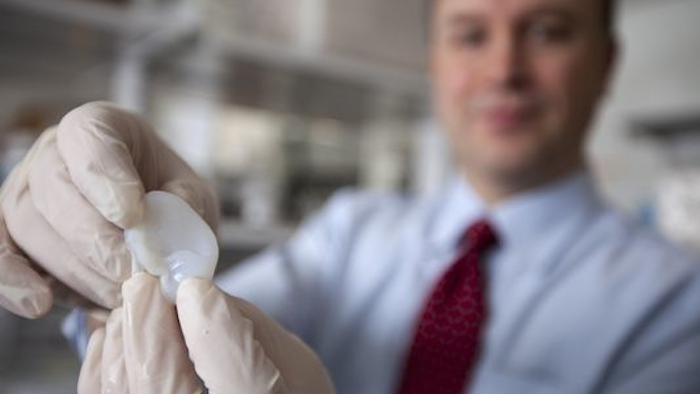 2. 3D Printing
3D printing is a huge trend in manufacturing, because it essentially is manufacturing. In many manufacturing-related sectors, 3D printing is quickly becoming a game changer because is fast, cheap, and completely customizable.
Many have high expectations for 3D printing in the near future. John Greenough of Business Insider writes, "The 3D printing market will already be significant, and cross the 1 million-unit threshold, within the next couple of years…the 3D printing trend will create a new generation of entrepreneurs who will purchase 3D printers to fuel start-ups, speed up innovation at established companies, and reduce manufacturing costs across many industries." Some of the industries that have utilized 3D printing most notably are the medical and automotive sectors.
One major new advance coming to the scene in 2015 is an increase in 3D printing's role in the medical field. An article by Jerome Groopman of The New Yorker last November reads, "Surgeons are implanting 3D printed stents, prosthetics, and replacement segments of human skull. The exponents of 3D printing contend that the technology is making manufacturing more democratic; the things we are choosing to print are becoming ever more personal and intimate. This appears to be even truer in medicine: increasingly, what we are printing is ourselves."
Although no one has been able to print a full organ yet, Groopman writes, "The advent of 3D printers that can print ink made of cells has offered a ray of hope." Remarkable advances are happening in the field, and doctors are getting closer and closer to 3D printing organs. Last year, Harvard materials scientist Jennifer Lewis, graduate student David Kolesky, and other members of their team accomplished something incredible. Groopman writes, "With a customized 3D printer, they were able to print a protein matrix and living cell types in a pattern similar to what is found in the body. Critically, they managed to create within these blocks of tissues a network of vascular channels that, much like blood vessels, can deliver nutrients to the cells and keep them alive. It isn't 3-D-printed organs, but it is a vital advance toward that goal." Perhaps 2015 will be the year these critical advances in medicine are made.
3D printed cars have been also made a splash. At the Detroit Auto Show earlier this month, Local Motors showed off the Strati 3D printed car. Similarly, the Canadian-based company EcoLogic is creating a car with more than 60 percent of parts made on a 3D printer. Jon Minnick of Manufacturing Business Technology asks, "With the push to do things differently in the auto industry — like all-electric vehicles, new distribution channels and 3D printing technologies — is the auto industry on the cusp of a paradigm shift?" 2015 might be the year the 3D printing technology is used to create widely usable highway-legal cars.
Stay tuned this week for the rest of January's countdown of the Top 5 Technologies Shaping 2015.