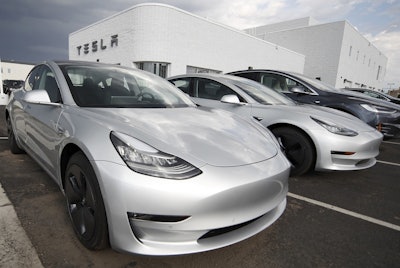 Tesla has surged past its competition in the luxury car segment as efforts to ramp up Model 3 production start to pay off. The company produced 145,846 Model 3s in 2018 and an estimated 138,000 of them were sold in the United States. That made the Model 3 the best-selling luxury vehicle in the U.S. in 2018, a remarkable achievment given that EVs accounted for a mere 1.12 percent of total vehicle sales.

Data from automotive magazine Car and Driver published by Yahoo! News shows the vehicle models Tesla has left in the dust. The Lexus RX was the runner up with 111,641 models sold while the BMW 3 and 4 series came in third with sales totaling 75,957 vehicles. There are still question marks around Tesla's success and whether it can be sustained, particularly since competitors Porsche and Audi are expected to launch new lines of electric vehicles this year.

Tesla will be hoping sales of the Model 3 are given another boost after they cut the price of all three versions by $1,100. The cheapest version of the car now starts at $42,900 before incentives but CEO Elon Musk claimed it could cost $35,000 when $8,000 credits and fuel savings are added in. Some observers disagreed, citing the varying cost of electricity. Still, the pricing is moving in the right direction towards the unsubsidized $35,000 Tesla is eventually aiming for with the Model 3.
You will find more infographics at
Statista