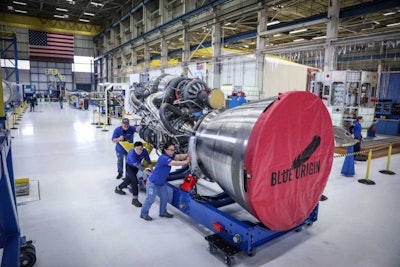 Jeff Bezos' Blue Origin has received a contract for the United Launch Alliance, Lockheed Martin and Boeing's joint rocket project, Blue Origin announced Sept. 27. This places them ahead of rival Aerojet Rocketdyne, which was also in the running for the Vulcan project.
The LOX/LNG BE-4 engine from Blue Origin will power the first stage of the ULA Vulcan Centaur rocket, which itself is manufactured and assembled at a ULA facility in Decatur, Ala. The engine is made to be used by both commercial and government groups.
"Today is a great day for the Blue Origin team. We are very honored that United Launch Alliance has selected Blue Origin's LOX/LNG BE-4 as the engine that will power the first stage of their Vulcan rocket," said Bob Smith, Blue Origin CEO, in a press release. "The Blue team is looking forward to developing our production facility for our BE-4 engine in Huntsville over the next year."
The Vulcan Centaur is currently in the design phase, with the booster preliminary design and critical design reviews completed. Tory Bruno, ULA president and CEO, says that it is "designed specifically for low recurring cost."
Each BE-4 engine will produce 550,000 pounds of thrust at sea level.
"We are pleased to enter into this partnership with Blue Origin and look forward to a successful first flight of our next-generation launch vehicle," said Bruno.
ULA boasts that it supports more than 22,000 American jobs, directly or indirectly.
The Huntsville Blue Origin plant will be constructed now that the contract has been secured. According to the Huntsville, Alabama Chamber of Commerce, the plant will cover 400,000 square feet and employ up to 342 people. Groundbreaking is expected to occur in November or December.