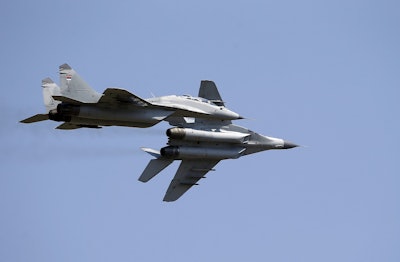 Serbia's air force on Tuesday took the delivery of two Russian MiG-29 fighter jets, part of an arms purchase that could heighten tensions in the Balkans and increase Moscow's influence in the region.
Serbian President Aleksandar Vucic attended the ceremony at a military airport close to the Serbian capital, Belgrade, thanking Russian President Vladimir Putin for helping make Serbia's armed forces stronger.
In October, Serbia received six MiG-29 jets from Russia which has also promised the delivery of 30 battle tanks and 30 armored vehicles. Serbia, a Russian ally, was at war with neighbors Croatia, Bosnia and Kosovo in the 1990s during the bloody breakup of the former Yugoslavia.
Moscow gave the secondhand jets to Serbia for free and the two that flew on Tuesday have undergone an extensive overhaul. The repairs of all six will cost Serbia around 185 million euros ($213 million).
Vucic, a former ultranationalist, said that the repaired MiGs should be named after Serbian pilots and other "heroes" who died during the "NATO aggression" in 1999 when Serbia's air force was depleted during the Western alliance's 78-day air war against the Balkan state because of its bloody crackdown against Kosovo Albanian separatists.
Serbia, which claims military neutrality, is negotiating additional arms purchases from Russia, including attack and transport helicopters and air defense systems.
Vucic said that he expects eight refurbished MiGs to fly at a military parade that Putin is expected to attend in Belgrade in November.
"Today is an important day for Serbia. Today we have seen the mighty wings of Serbia," Vucic said, adding: "Serbia will no longer be an easy target."
Serbia faces a mini arms race with NATO-member Croatia, which has recently agreed to purchase 12 used F-16 fighter aircraft from Israel.
Serbia formally wants to join the European Union, but under political and propaganda pressure from Moscow, Belgrade has steadily slid toward the Kremlin and its goal of keeping the countries in the region out of NATO and other Western organizations.