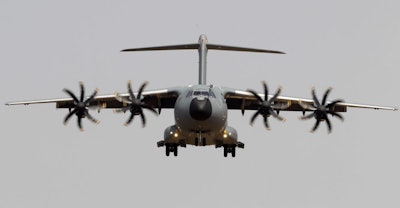 Airbus' first-half profits took a hit amid ongoing problems with its A400M military transporter and engine problems for its A320neo, and deliveries are down though orders are on the rise.
The company said Thursday that sales in the second quarter fell but were stable overall in the first half at 28.7 billion euros ($33.4 billion) compared with 28.8 billion euros for the same period last year.
Net income dropped to 1.5 billion euros from 1.76 billion in the first half last year.
CEO Tom Enders said "we are facing challenges due to ongoing engine issues," notably on the A320neo, blamed on supplier Pratt & Whitney. Airbus maintained its full-year forecast of delivering more than 700 planes but says it depends on engine makers meeting commitments to fixing problems.