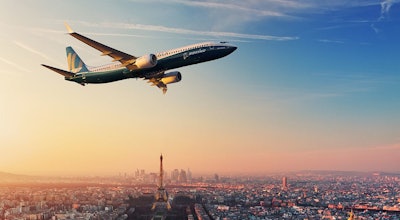 Boeing officially launched what it said would be the world's most efficient and profitable single-aisle airplane at this week's Paris Air Show.

The latest iteration of the aerospace giant's 737 MAX series — the 737 MAX 10 — will feature a passenger capacity of up to 230 and include modified wings to reduce drag, as well as a new fuselage stretch, aft pressure bulkhead and main landing gear.

Company officials said the airplane would lower trip costs and costs per seat by mile by 5 percent — the latter enabling the "lowest seat-mile cost of any single-aisle airplane ever produced."

The announcement comes amid heated price competition with French rival Airbus, particularly as Boeing dealt with a strong dollar in recent years. The company slashed thousands of jobs last year as part of a restructuring, and more cuts are expected this year.

"Airlines wanted a larger, better option in the large single-aisle segment with the operating advantages of the 737 MAX family," Boeing Commercial Airplanes President and CEO Kevin McAllister said in a statement. "Adding the 737 MAX 10 gives our customers the most flexibility in the market, providing their fleets the range capability, fuel efficiency and unsurpassed reliability that the 737 MAX family is widely known for."
The company said that more than 10 customers already placed orders and commitments for more than 240 of the new planes, including United Airlines, Lion Air Group and GE Capital Aviation Services.

"The 737 MAX 10 will enable us to continue using larger and more efficient aircraft within our domestic network and better meet the needs of our customers today and into the future," said United CFO Andrew Levy.