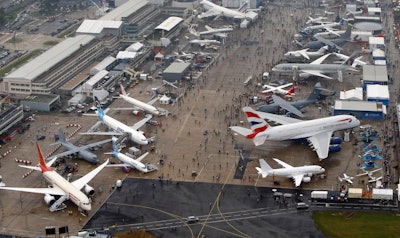 While Airbus and Boeing will again hog the spotlight at the Paris Air Show with their battle for ever-larger slices of the lucrative pie in the sky, a lot of the really interesting stuff will be going on elsewhere at the upcoming biennial aviation and defense industry gathering.
Lockheed Martin's F-35 jet will crane necks with high-speed aerial displays, drones will again be a hot topic and a would-be flying car will aim to show that it is closer to getting off the ground as a consumer ride. Defense contractors will be seeking customers for their latest high-tech weapons, including drones designed to act as wingmen to piloted aircraft in battle.
More peacefully, there'll be the launch of a distress beacon with an integrated GPS transmitter to help locate planes that go down — an issue of vital importance after the failure to locate Malaysia Airlines Flight 370 that disappeared with 239 passengers and crew on March 8, 2014. And several companies are showcasing technologies to allow passengers to stay connected in the air.
With airlines suffering a string of public relations' embarrassments recently — from the United Airlines' passenger getting dragged off a flight to British Airways' massive outage — the aerospace industry is eager to show off its goods.
Here, in greater detail, is a taste of what to watch for at the show, which runs from June 19-25:
AIRBUS VS. BOEING — AGAIN
The U.S. and European manufacturers invariably seek to out-do each other by announcing big deals at the show. The last event in 2015 brought orders for 421 planes worth $57 billion for Airbus and orders for 331 planes worth $50 billion for Boeing.
Airbus and Boeing orders have seen a downturn in recent years after a buying spree by Mideast and Asian carriers. This year, each company is expected to announce around 200 orders, though some may be airlines or leasing companies firming up earlier tentative orders.
Neither Boeing nor Airbus is unveiling a major new plane at the show. Likely to get attention are Boeing's latest 787 model, the 787-10, and Airbus' answer to it, the A350-1000, the latest version of the long-delayed Airbus wide-body. Boeing will also show its 737 Max 9 and Airbus will show the single-aisle A321, popular for its fuel efficiency.
MAKE WAY FOR THE F-35
Among the 130 aircraft on display, the star will likely be the cutting-edge F-35 stealth jet fighter, which costs about $100 million each.
Designed to creep up undetected on ground targets and for air-to-air combat, the jet will wow with daily flights — hoping to impress potential foreign customers for manufacturer Lockheed Martin.
Briefings, by the plane's chief test pilot and others, on the jet's aerial capabilities and the F-35 program could produce news about recent problems that grounded U.S. Air Force F-35s at a base in Arizona, after pilots reported symptoms of oxygen deprivation.
The U.S. Air Force will use the F-35 to replace the A-10 and F-16, and has already taken delivery of more than 100 of the planes.
DRONES, OF ALL SHAPES AND SIZES
Big, small, deadly or peaceful, drones of all shapes and sizes that do jobs once done by pilots — and jobs that pilots can't — are expected to be a major source of interest and business at the show. There'll also be discussion about how to ensure that civilian drones don't unsafely clog the skies, by tripping over commercial flights and each other.
San Diego-based Kratos Defense and Security Solutions, Inc. says it will display its "fighter-like" Valkyrie and Mako drones, which it touts as being highly maneuverable, stealthy, able to fly at near supersonic speeds and "designed to function as wingmen to manned aircraft in contested airspace."
There will also be drones for surveillance and intelligence-gathering.