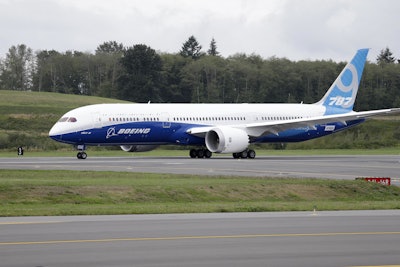 Boeing topped expectations for first-quarter profit, but the aerospace giant's sales fell short of forecasts, and the shares fell in Wednesday-morning trading.
Chicago-based Boeing Co. said Wednesday that it earned $1.45 billion in the first quarter. Excluding non-repeating gains, the profit came to $2.01 per share.
The average estimate of 10 analysts surveyed by Zacks Investment Research was $1.91 per share.
Revenue was $20.98 billion. Five analysts surveyed by Zacks expected $21.44 billion.
Boeing blamed the disappointing sales number on delayed deliveries of commercial and defense aircraft. The company delivered 169 commercial planes in the quarter, down from 176 a year earlier. Boeing said it planned for fewer deliveries of its workhorse 737 plane as it prepares to launch a new version next month.
Revenue from sales of military planes plunged 28 percent, to $2.64 billion.
Boeing expects full-year earnings in the range of $9.20 to $9.40 per share, an increase of a dime per share, as the company now expects a full-year tax rate of 31 percent instead of 32 percent.
In morning trading, the shares were down $3.01, or 1.6 percent, to $180.50.