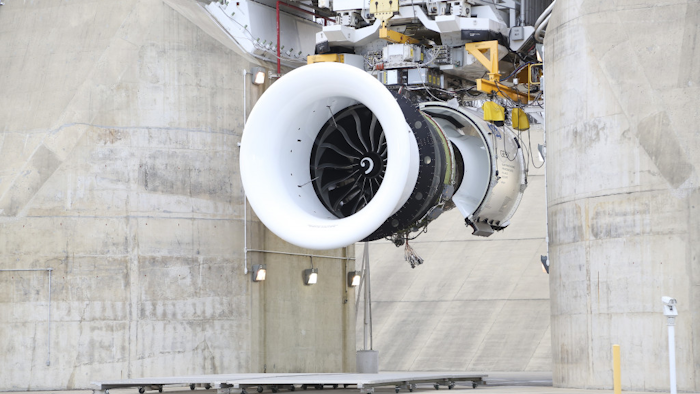 The deep woods around Peebles, Ohio, are hiding a secret so big that it could write the next chapter in the history of aviation. At one of many test sites spread over a secluded valley, GE Aviation just completed initial ground testing of the GE9X — the largest jet engine ever built.
Designed exclusively for Boeing's next-generation 777X passenger jet, the engine is so large you could almost run a London tube train through its front end. (The engine's fan diameter is more than 11 feet. The tunnels of London's oldest underground lines are just 8 inches wider.) One GE9X can produce 100,000 pounds of thrust — more than four times as much as the two engines on the F/A-18E/F Super Hornet, which clock in at 22,000 pounds each.
"There were no major surprises, which is a very big statement, given the amount of new technology in this engine," says GE9X program leader Chuck Jackson. "We want to make a few tweaks here and there, but that is why we ran this engine early — to give us time to further enhance the product."
Since March, the engine has gone through 167 hours of grueling tests and simulated the equivalent of 213 takeoffs and landings to assess how it will operate in flight. The battery of tests produced roughly 6 terabytes of data collected from 1,200 sensors — enough to fill approximately 27 million 200-page books — that verified the aerodynamic, thermal and mechanical characteristics of the engine. Later this year, GE Aviation will put the GE9X through preliminary ice tests to see how the engine fares in cold temperatures.
But the engine's size is just its most obviously striking feature. The engine also includes 16 third-generation carbon-fiber fan blades and a fan case, which boost efficiency by feeding air into a compressor with a 27:1 pressure ratio — the highest of any commercial engine.
The engine has fuel nozzles made by additive manufacturing, popularly known as 3D printing. The technology allowed engineers to design complex internal shapes that were previously impossible to achieve and improve fuel consumption.
It also has the most extensive use of lightweight and ultra heat-resistant space-age material called ceramic matrix composites (CMCs) in any jet engine. A second round of testing is underway on CMCs operating in the combustor and turbine in temperatures as high as 2,400 degrees Fahrenheit. These lightweight materials not only reduce weight but also improve fuel burn, engine performance and durability.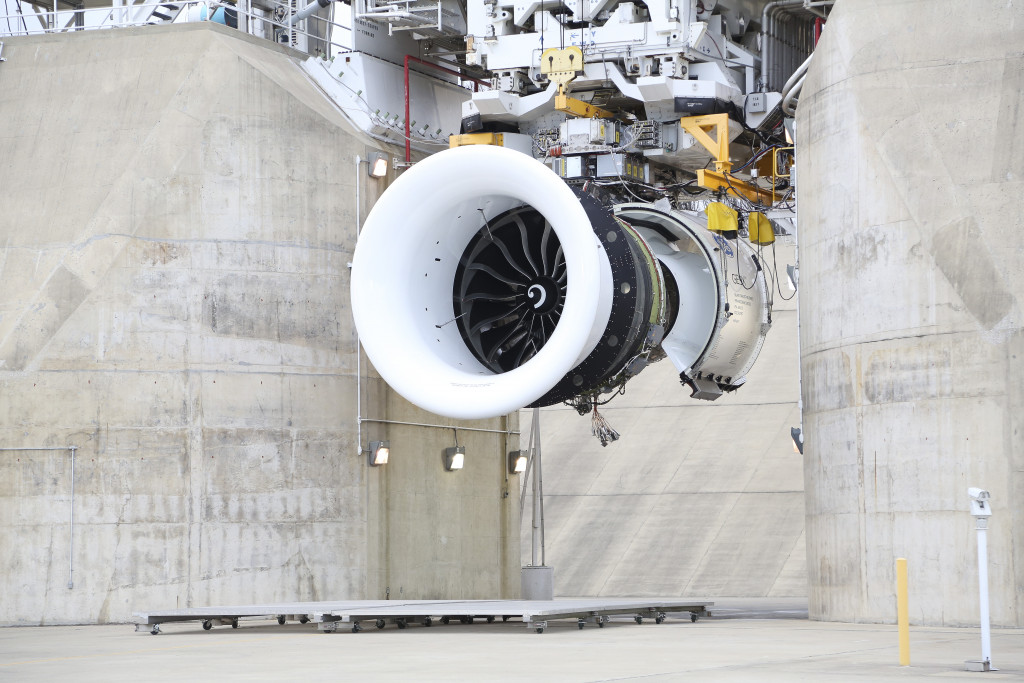 The testing on the GE9X was achieved at record speed. It took less than 15 months from completing initial designs to finishing the initial round of assessments on the first engine assembled. That's more than half a year faster than what's typical. If all goes according to schedule, the GE9X engine will be certified in 2018 and in service by the end of the decade.
GE Aviation has invested $10 million to upgrade its Peebles Testing Operation for the GE9X, which was tested on a bunker-like test site that can withstand the massive forces and tornado-force winds produced by the engine.
GE engineers first started testing individual parts of the engine, like the high-pressure compressor and the fan's composite blades at sites around the world. At Peebles, they conducted the first test on a complete version of the machine called — in aerospace parlance — "first engine to test" (FETT). The tests have been a moment of truth for the design team.
"The FETT testing is really important because it is the first time that we put all those technologies together in an assembled engine to make sure everything works together as we thought it would," Jackson says. 
Jackson says that his team was able to finish the initial tests so fast by first testing parts and systems and using powerful data analytics to analyze the results and suggest improvements. GE calls this process the Brilliant Factory. "FETT was an incredibly important part of our learning process," Jackson says.
For example, the lessons learned from operating the first engine during FETT will be incorporated into the second engine now being built (scheduled to be fully assembled by April), which will then formally start the engine certification program. Flight testing of the GE9X engine on GE Aviation's flying test bed in Victorville, California, is set for next year.
When Boeing decided to build the 777X jet, the next-generation version of the 777 jet, it asked GE to develop a new engine. GE Aviation, the exclusive engine maker for the 777X, has received orders for more than 700 GE9X engines valued at $29 billion (list price) from airlines including Cathay Pacific, Emirates, Lufthansa, Etihad Airways and Qatar Airways.